When you select bank questions for an assessment, copies of the questions are created and added to the assessment. You can edit the copies of questions in your assessment without concern as other assessments are not affected. Meaning changes you make to one instance of the question or content are not reflected in the other instances. If you want changes to show in all instances, you must find and edit each individual copied instance.
You can import question pools or files from outside resources into your course however note Only ZIP files are supported.
Import question banks
Step 1: From the Course Content page under Details & Actions panel select Manage banks.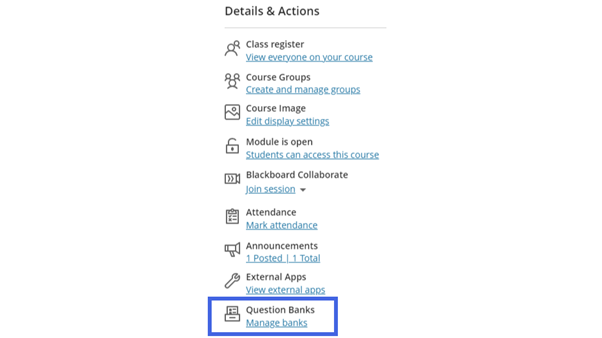 Step 2: Select the plus icon and browse for ZIP files to be imported which will immediately begin to upload. 
As the ZIP file imports, you will receive a success message when the file imports successfully along with an email when the operation is completed. You will also receive a message if the file or some question types are not uploaded.
Step 3: A list of test banks will appear on the screen after the import process is complete. The most recently imported question bank appears at the top of the list. An exclamation icon appears with banks where one or more unsupported questions were removed.
Supported question types
These supported question types appear in a question bank after import:
Calculated Formula
Essay
Fill in the Blank
Fill in Multiple Blanks
Matching
Multiple Choice
Multiple Answer
True/False
Unsupported question types are removed. If your file has no supported question types, the question bank is not added to your course.
Messages may appear:
Unsupported question types were removed: Only supported questions in this file appear in the Question Banks section on the Reuse Questions page.
The bank wasn't imported as no compatible questions were found: No questions in this file appear in the Question Banks section on the Reuse Questions page. The question bank isn't added to the Question Banks page.
Delete question banks
When you delete a question bank on the Question Banks page, the bank is permanently removed from your course. If you copied questions from the bank into one or more assessments, those questions remain in your assessments after you delete the bank. However, you can't delete question banks used in question pools.