One way to make your video more interactive and to have knowledge checks is to embed quiz questions throughout your video. This allows to you check student knowledge throughout a video and increase student engagement. Integrating quizzes can turn videos into an active learning experience instead of a passive learning experience. They can also increase knowledge retention as users have to pay close attention to the video and get a chance to use their knowledge as they learn it.
1 Adding questions
Go to your module and find the video that you want to use. Hover over the video you wish to use and click on More…

Select the option for Quizzes in the left-hand menu, and then click the button to Create Quiz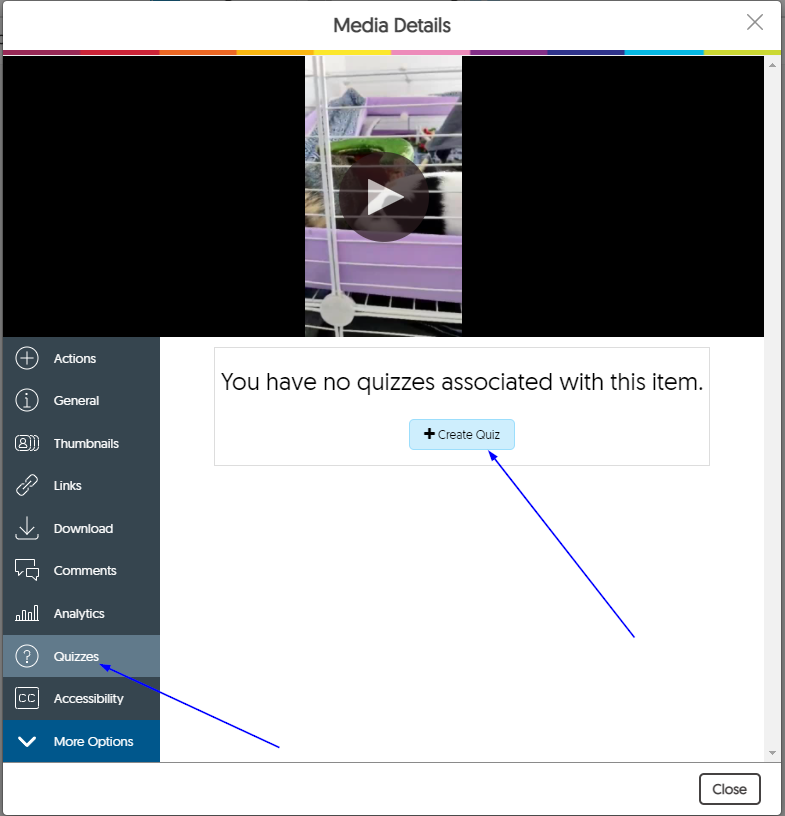 The next screen you can play the video then click the Add Question tab to add a question at a specific part of the video.
Once you have clicked on Add Question, you can select the type of question you would like to add to your quiz.
Once you have selected the type of question you would like to add, then add the question and click on Save.
The quiz question will now appear in the question list along with the timestamp for when in the video the question is set.
2 Saving and previewing your quiz
Type a chosen quiz name in the top bar at Enter Quiz Name.
Click on Preview option from the top bar.
Here you can preview your video quiz by playing the video. The video will automatically pause at the desired time/s for you to answer the question/s. You can either answer the question and click on Save or click on Skip for Now. Once you have selected either save or skip for now, the video will automatically recommence playing.
When you're done, click on Exit Preview.
Once your video quiz is complete then you can click on Post to publish the video quiz or if you are not yet ready to publish your video quiz you can Save the video quiz to publish later.
3 Embedding the quiz in your Ultra module
If you haven't created the quiz in your module, you can follow the instructions to embed a specific video in your module. However, when you search for your video you'll need to select the tab for Quizzes.