What is it?
As of 2020, we are now using a new version of Blackboard called Ultra. Some modules that have used the original version will need to be exported to Ultra.
What does it do?
Importing content from an original module is simple and allows you to reuse content without having to make a whole new module on Ultra.
Reuse content from your original module
A straightforward process
Create and export .zip files
What should I know?
Creating the .zip file from the original course
Step 1: Go into the Original module that you want to copy content from. Scroll down the left-hand side to the Course Management area then click on Packages and utilities and from here select Export/Archive Course.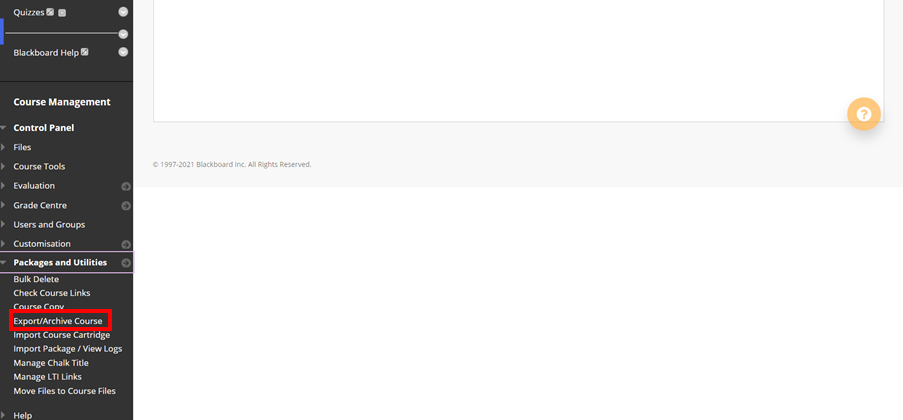 Step 2: In the page that opens, select the Export Archive option at the top. That will open a page with many options of what content you want to move. You can use the tick boxes for any items you want to move over, but we recommend you do not import the Grade Centre columns and settings. It is also not recommended to move over announcements.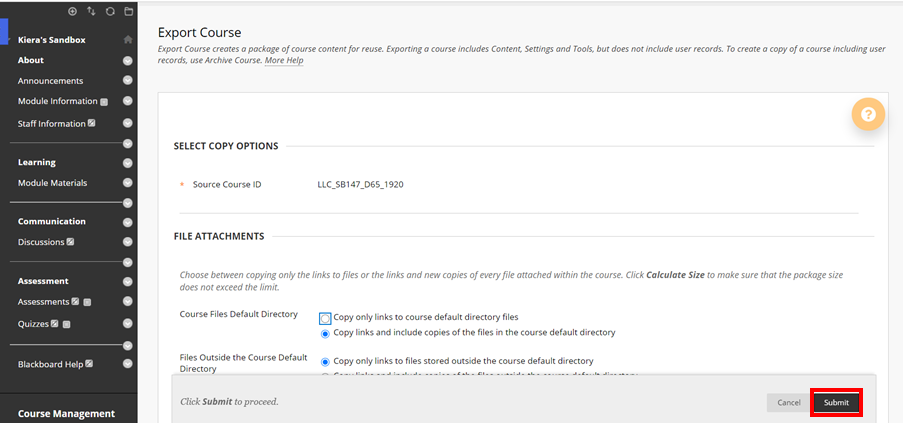 Step 3: When you have selected what you wish to export, click on Submit at the bottom right-hand corner and you should get a message: 'success, this action is queued, an email will be sent when the process is complete'.
It may take time for this process to be completed and can depend on the amount of content in the module.
Step 4: Once your file is ready you will get an email, and you can refresh this Export/Archive Course page to get an export file link – this is the .zip folder that contains all of the materials for your course in a way that can be read and understood by Blackboard. Click on this link to download the .zip folder to your computer. It will usually be saved in your Downloads folder on your computer.
Importing the .zip file into the Ultra modules
Step 1: Go into the Ultra module where you want the content to go to. Click on the 3 dots at the right of Course Content and you will see a menu with a few options:
Batch Edit
Import Content
Copy Content
Export Course Package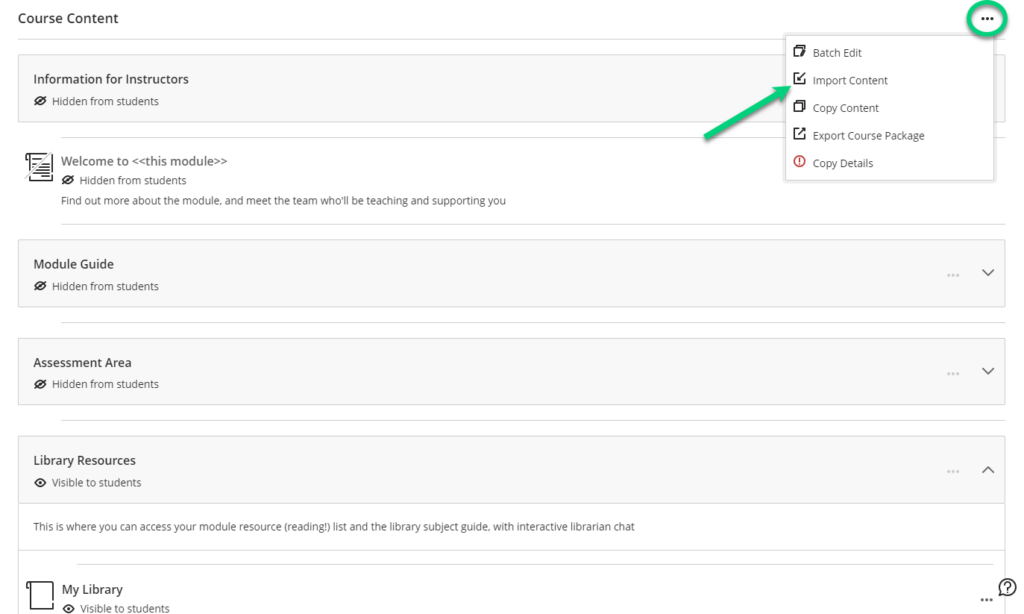 Select the Import Content option. In the side panel that will open, select Import Course Content. This will open your file window allowing you to find the .zip file in your downloads folder. Select this item and then click Open to start uploading the content into your module.
This may take some time to upload and then copy into your course and is dependent on your internet speeds and the size of the folder.
Step 2: Once this process has completed, you will see a grey bar at the bottom of your screen that has the number of items that were not imported. It is important to know that in most cases, these items were imported, but there were changes in the item from the Original module. You can click on this link to see the list and details of what has changed. Once you are done reviewing this and no longer need to see this list, click OK. Do not click OK if you are not done reviewing this list.
Note: You will get a notification at bottom right in red about items that were not imported. This means items have been imported but not imported identically e.g., if a title was in italics originally it will now be imported as normal text meaning not identically to what was originally, so this generally refers to formatting.