If you use quizzes in your class, you may have created question banks in order to have a set of questions that you can randomly assign in your quiz.
For more information on question banks and how to use them, check out Blackboard's guide.
When you copy quizzes between Ultra modules, the quizzes and associated settings are copied but the question banks are not carried across modules. Currently, CTIL will need to copy and import these question banks for you. If you require question banks to be copied, please fill out this request form.
This form will automatically generate a Help4U call, and we will get in touch with you to let you know once the process is completed or to ask any follow-up questions, if required.
How I can check if I was using question banks?
Go into the module where you created the quizzes and click on the item in the left-hand menu that says Question Banks.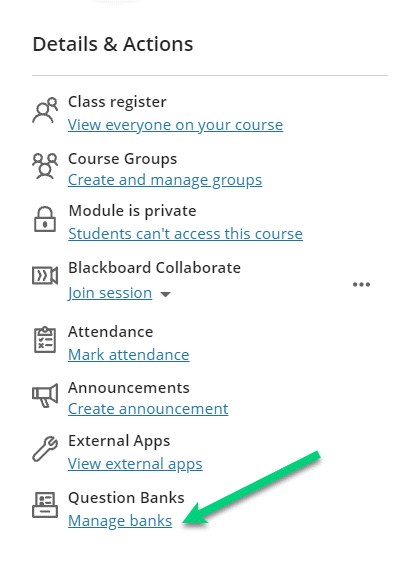 If the page that opens is blank, then you aren't using any question banks and you won't need CTIL to import anything for you. If there are items in that page, then you will need to use the form to request the question banks are imported.