What is it?
Course Faculty allows you to view the instructors related to a module in alphabetical order by surname. You can use the Primary Instructor feature to re-order this list.
---
What does it do?
We can select which instructors we would like to highlight as Primary Instructor/s on a module so that the list is viewed as Primary Instructors at the top then other Instructors (i.e. this allows you change the order to view Instructors).
---
What should I know?
When viewing Course Faculty, the list auto sets in alphabetical order by surname. This can mislead students to think the top named instructor is the main contact of this module.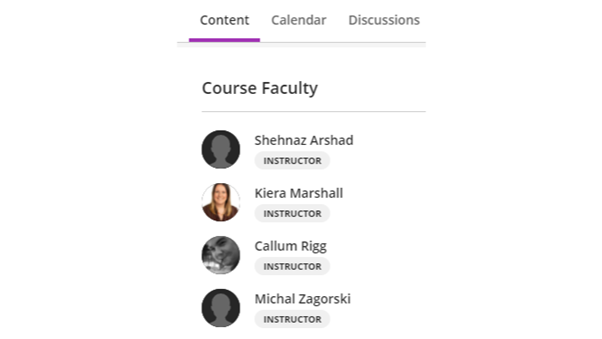 We can change the list to select which Instructor to be marked as Primary Instructor/s. This would allow the Primary Instructor/s to be at the top of the list.
In order to select an instructor as Primary Instructor:
Step 1: Go into the main Course Content page on your module and select Class Register.
Step 2: Select the instructor you would like to make as Primary Instructor, click on the three dots by their name, and select Edit member information.
Step 3: In the Member Information tick the box for Primary Instructor and select Save.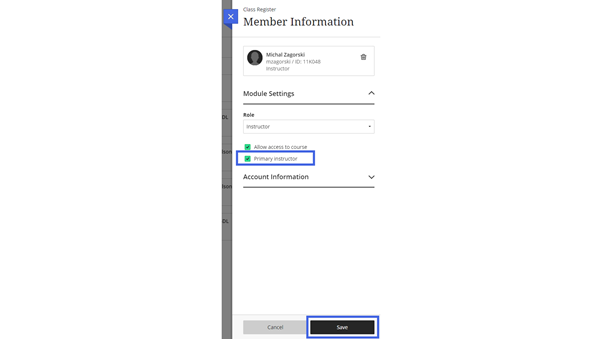 Step 4: Repeat for every instructor you would like to appear in the top of the list as you can have multiple Primary Instructors.
Note: If you have multiple Primary Instructors in your module, they will appear in order alphabetically by surname. They will then be followed by any other (non-primary) instructors who will also appear alphabetically by their surnames.
Now refresh the page at Course Faculty and you will see the Primary Instructor at the top of the list