When creating an assessment, you can use question pools to ensure each student receives a different version of the assessment. Pools are an inventory of questions that can be reused throughout the course to create assessments. Pool questions can be sorted by question category, question type, topics, levels of difficulty, and keywords.
To add a Question Pool
In an assessment select the plus sign wherever you wish to add a question pool and then select Add question pool from the menu.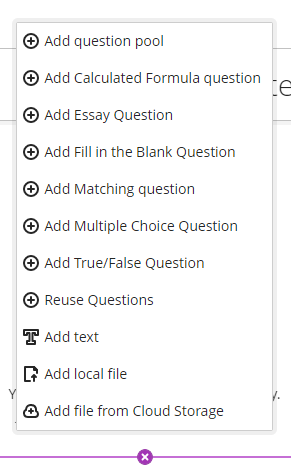 Step 1: On the Add Question Pool page, select the assessments, question banks and question types you want to browse.
Step 2: Select the check boxes for the questions you wish to add then select Add questions and the question pool will appear in your assessment.
Step 3: Here you can type a point value (this is assigned to each question in the pool) and the number of questions to display to students (this cannot exceed the number of questions in the pool).

Step4 : Select Save to add the Question Pool to your assessment.
Note:
Before students open an assessment, you can add questions and open an individual questions menu to remove, edit or regrade it.
If you edit a question in a question pool, the edits appear everywhere the question is used.
After students open an assessment or make submission you cannot add or remove questions from a pool or delete a pool from an assessment, but you can still edit, regrade, and give full credit for questions in the pool.
You cannot add question pools to assessments when these settings or conditions exist:
You've added a rubric to your assessment.
You've chosen to collect submissions offline.
Students have opened the assessment.