This guide shows instructors on how to add YuJa tool link to a My Dundee module. The most common reason for doing this is to add relevant recordings (such as lecture recordings, flipped classroom or worked examples) to a tool link content area.
Steps
Step 1. Adding tool link
Open the module that you want to add YuJa to.
Click the add Tool Link icon at the top of the left-hand menu.
Name the tool link with an appropriate name.
From 'Type:' select the dropdown and click YuJa
By default, the Tool Link is not visible to students, click 'Submit'.
When you click on the Tool link it will launch the YuJa area within your My Dundee module:
Step 2. Launch YuJa
Once you've installed the YuJa application, you're ready to begin recording.
Navigate to Create Recording at the top of the screen.
Click "Start". The installed copy of YuJa will open on the computer.
Launch YuJa, click "START"
Login to the capture application using Single Sign-On (SSO) and your institution as University of Dundee and click Sign In (you will not have to enter your credentials due to SSO)
Step 3. Starting your Recording
In the YuJa recorder, choose your options. Click on the down arrow in the grey section to make any adjustments to your selection.
Title and Description. (Change the title if you want, the default is the time and date)
Media channel select your publish location, this will be your My Dundee course title. *If you don't select this option, the recording will be published to your My Media in YuJa by default and can be published to your My Dundee channel post production.
**Video – Most lecture machines don't have cameras, so you should ensure 'none' is selected. Unless you want to capture video, in which case select the appropriate video input device.
***Audio – This will vary depending on hardware, by default the software will select the digital microphone connected so make sure the device you expect is selected:
Press the Start button to begin your capture. Stop your recording by clicking on the YuJa Mini-bar or pressing Ctrl+Shift+F, the default hotkey sequence. The hotkey can be changed if desired
When you press the Start button, you'll have three seconds before recording begins. Use this time to bring up your files or presentation material on-screen, if you're capturing your screen. Proceed with your recording – try to speak clearly and naturally.
Step 4. Post Now, Deleting or Saving your Capture
When you complete your recording, you have three options available.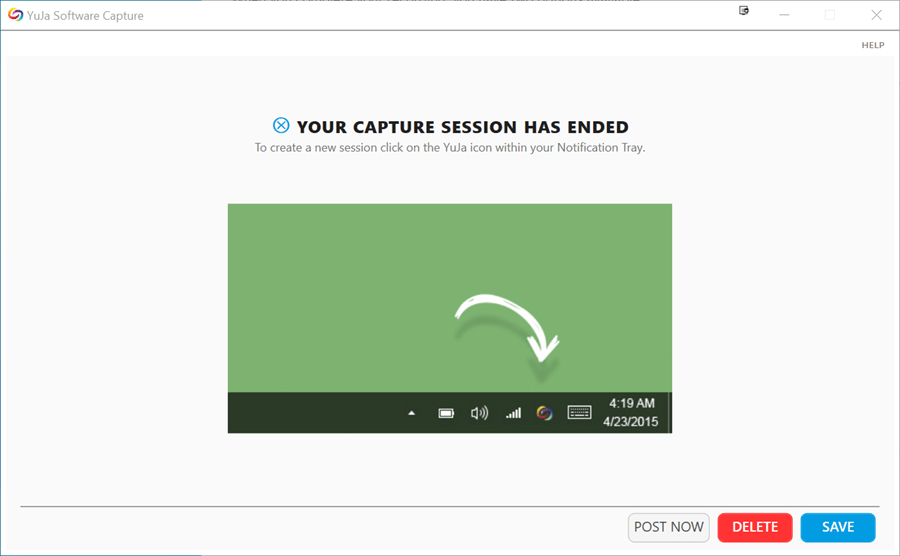 Press "Delete" if you don't want to keep the file (this will delete your recording permanently)
Choose "Save" to save your capture recording to My Media (this will give you the opportunity to review the content, note that you will then have to publish to your My Dundee module at a later date)
Choose "Post Now" to publish your capture to the channel specified in the Media Channel
Install YuJa
Direct Download
Download from the following link: https://dundee.yuja.com/D/YSS/Download
YuJa area on My Dundee
From YuJa area in My Dundee click "Create Recording" then click "Download and install"
YuJa Dundee homepage
Log in to https://video.dundee.ac.uk/ and again click "Create Recording" then click "Download and install"
Note: YuJa has been installed in all the lecture rooms if you are in a lecture space that you think should have YuJa installed please email help4u@dundee.ac.uk noting the room and PC name.