What is it?
When you copy content between modules, the module structure may be different. You may even notice slight differences when copying between Ultra modules.
What does it do?
You will need to organise and/or re-structure your module into the Ultra format. You might notice that once the items have been uploaded into your course, the organisation will have changed.
Organise your module content to fit the Ultra format
Restructure items to where they fit best
Review items and remove content that is no longer needed
Make sure content is up to date
Step 1: Review the items and fix any errors on importing

Note: The errors that occur during the importing/copying process are usually minor and the items typically will have imported, but with changes. We recommend you check through what the errors are telling you, in the first instance.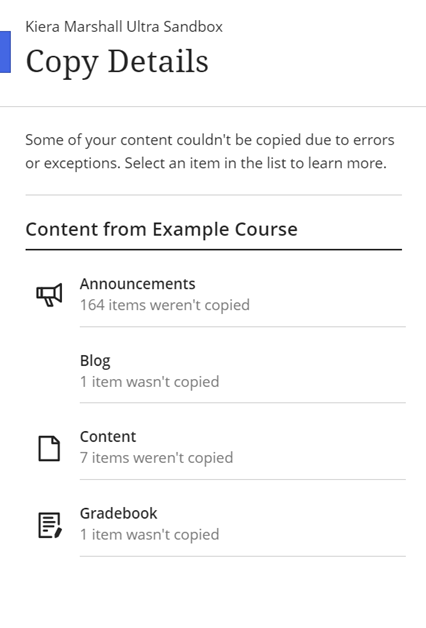 Step 2: Organise your course according to the new layout. Please refer to your module template for this.
It is important to note that there are limits to the depth of folders in Ultra. Any folders or items that were too deep (e.g., folder in a folder in a folder then an item) will be brought up to the level of depth allowed by Ultra.
Tidying up your content is as an important step as importing the items themselves, so please be sure to leave plenty of time dedicated to course clean-up.