This guide requires you to have already recorded your presentation and have a finished MP4/video file ready for submission. This will show you how to login and upload a video file (MP4) to your personal UoD video management account (YuJa). Your lecturer may ask you to share a link or alternatively upload directly to a specific YuJa channel, so pay attention to the specifics of what your instructor has told you.
For more general assistance using YuJa, you can visit the YuJa Help Centre.
Transcripts will be automatically generated for videos recorded or uploaded to YuJa. For any help with this, please contact Help4U.
Upload your video from a laptop/desktop computer
Go to https://video.dundee.ac.uk/Login and login using UoD Single Sign-On (your personal UoD credentials)
Once you're logged in, click on My Media in the left-hand menu under 'Personal', then click Upload at the top of the screen.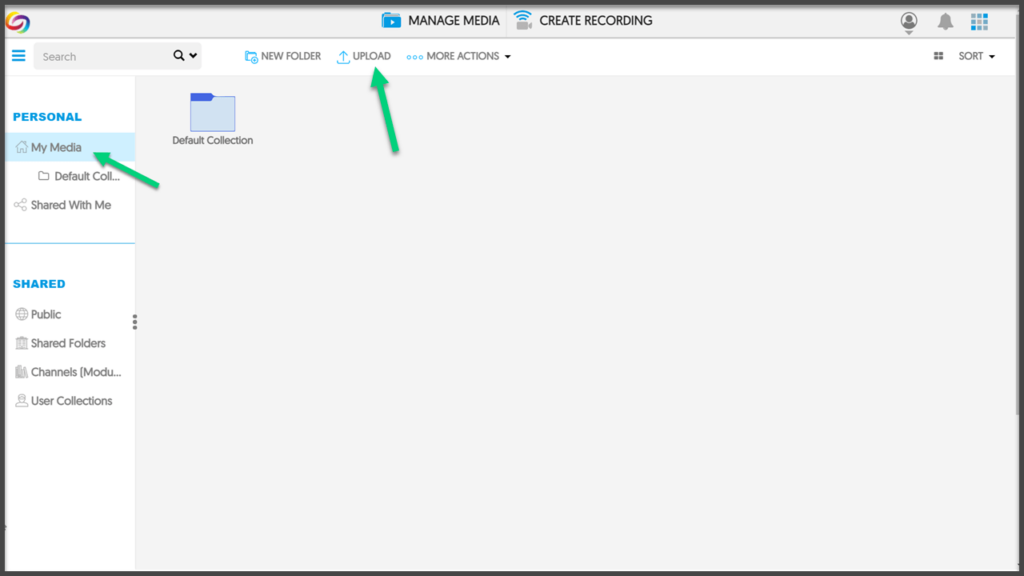 In the pop-up that will appear after you click Upload, click Browse button, select the file(s) to be uploaded. Or alternatively just drag & drop file(s) to the open window.
Click Start Upload if you used the Browse function.
Depending on the size of the video and your internet bandwidth, it could take a bit of time for the video to be uploaded and processed. Please be patient during this process.
Uploading a video to your module channel
If you need to upload a video to your modules channel, simply click into the YuJa channel from within your module on My Dundee. Find the folder that your instructor has created to allow student uploads, and upload your video here following the process above. You'll skip the step that says to upload to your My Media area, as you'll upload directly to the specified folder instead.
Remember, your instructor may have set up the folder in YuJa to require instructor approval. If this setting has been used, you won't see your video immediately after you've uploaded it – it will only appear once your instructor has reviewed the video and approved it.
Upload your video using the YuJa mobile app
If you have your MP4 file on your mobile device, or you want to record on your mobile phone and then upload. You may find it easier to use the YuJa mobile app. You can find this on your phone's app store:
Login using UoD Single Sign-on (using your standard UoD log-in/credentials).
Click Uploads, and then click the plus icon.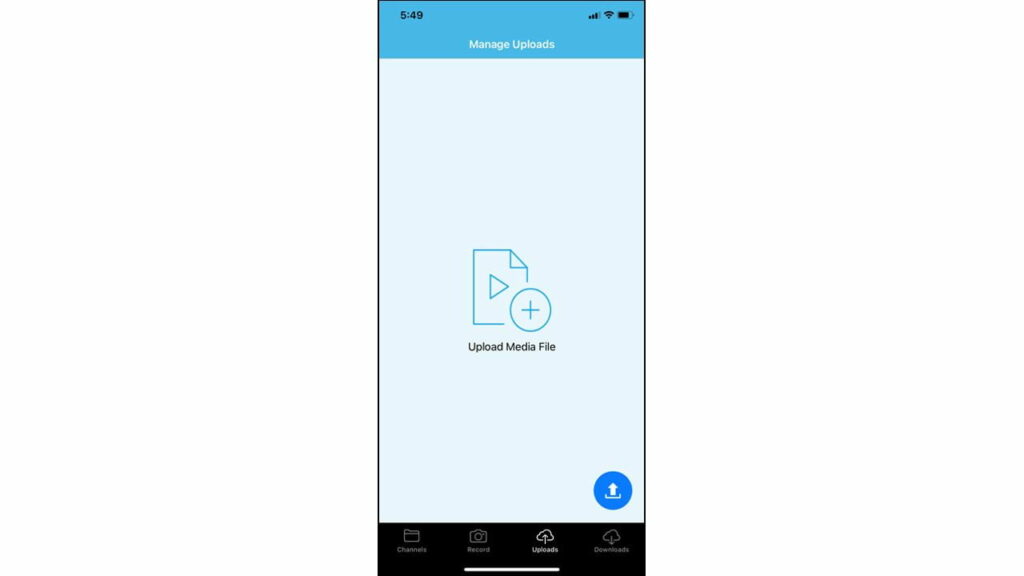 Find and select your Video.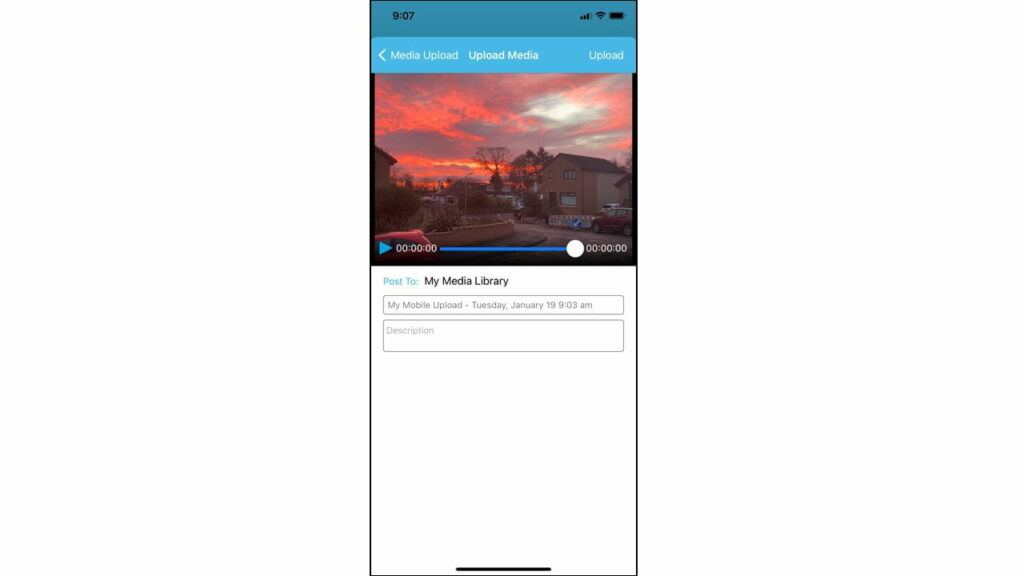 Check Post to: is the correct location/channel, where you want the file to go, then add a short description of the video. Depending on your need, this could either be your My Media area, or the folder your instructor has created in your module's YuJa channel.
Click Upload.
Get your video link
Once your video has been uploaded to YuJa, you may still need to access the link if your lecturer has asked you to submit a link into an assignment or a discussion board on My Dundee.
Hover over your video, then click More.
Once you click More, you'll see a pop-up window with a menu on the left-hand side. Select the Links tab from this menu and then copy the Direct Link URL.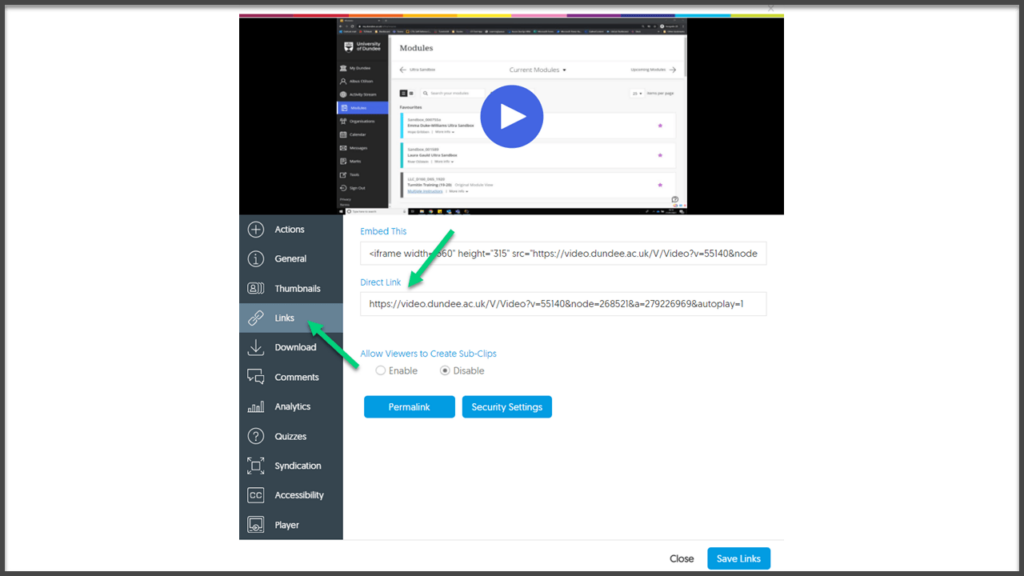 Simply paste the URL wherever you need it! Anyone with access to the URL will be able to view your video.