What is it?
Use rubrics and grading forms to provide quick feedback based on pre-established criteria.
What does it do?
The difference between rubrics and grading forms is small, but important. Both use a pre-defined set of criteria to assess submitted work. Rubrics use a template to generate feedback provided to students, whereas grading forms provide the criteria and an empty text box so the marker can add in custom feedback.
What should I know?
Do not attach a rubric or grading form to an assignment that already has one attached. This will delete the previous rubric/grading form and remove any marks and comments that are associated with it.
There are two methods to add a rubric or grading form – one from the point of setting up the assignment, and one once at least one student has submitted. We'll provide the information for how to do it from settings as this allows you to do add them either when you create the submission or after students have started submitting.
Step 1: If the assignment has already been created, open the assignment and click on the cog-wheel in the top right-hand side of the window to return to the settings.
Step 2: (For existing or new assignments) Click on the link for "Optional Settings" and tick the box for "Attach a rubric" underneath the heading "Submission settings". This will open up an area for a drop-down menu and a button that says "Launch Rubric Manager".
Note: If this area says anything other than "No rubric", please stop and contact other instructors on the module to see if the currently attached rubric has been attached.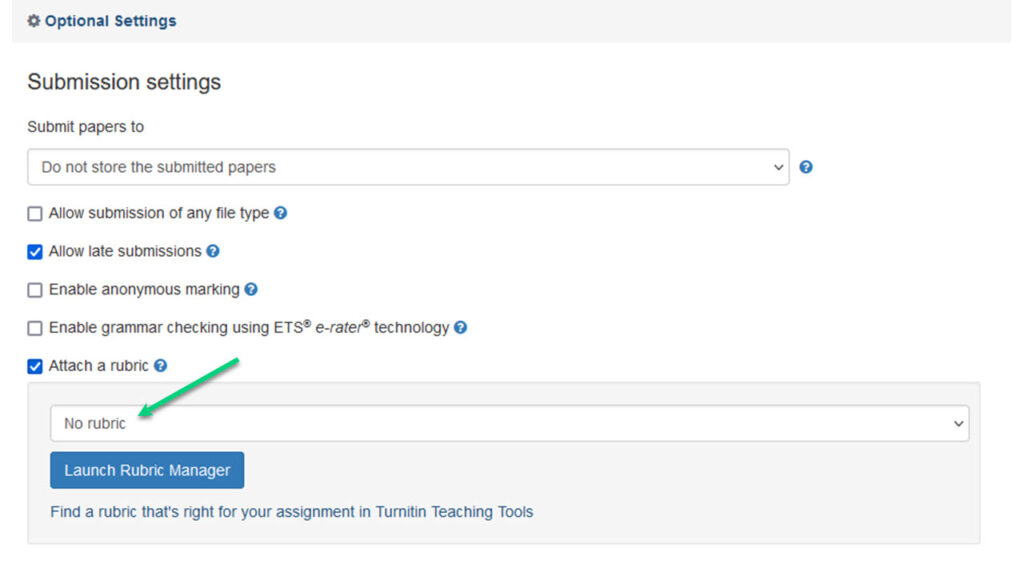 Step 3: If you are using an existing rubric, you can use the drop-down menu to find and select your rubric.
Step 4: Click "Submit" to save this setting.
Vendor guides:
Creating and attaching a rubric or grading form at assignment creation
Creating and attaching a rubric or grading form after student submission