In case you missed our Hybrid Update #8, we're pleased to confirm that the next phase of the Hybrid Teaching Spaces project is on track for the start of Semester 2. In addition, we can now confirm details of how and when you can book some instruction and hands-on time with the new service. Read on for details.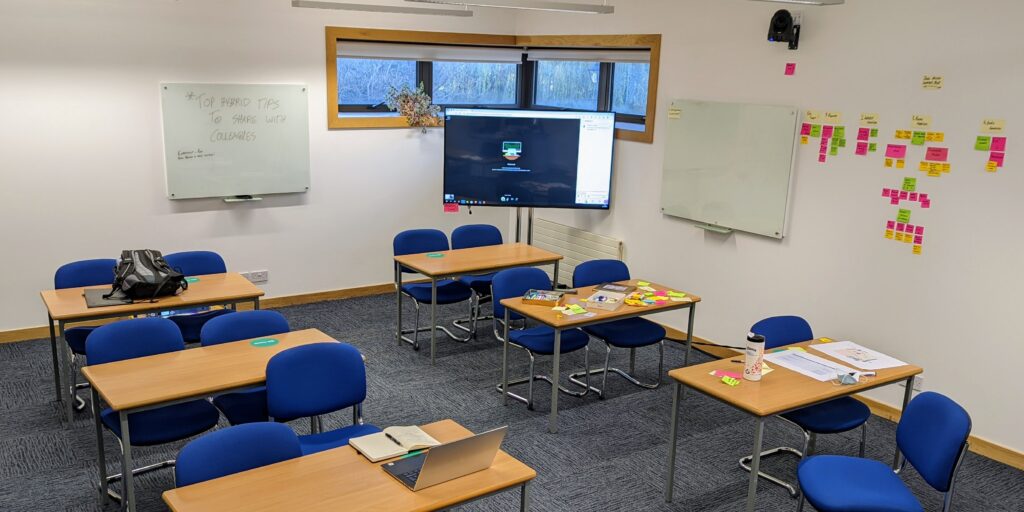 Dual-Mode Rollout
The deployment of Dual-Mode will begin on 13 December 2021, continue up to and immediately after the winter holidays and complete by 14 January 2022, in time for the formal opening of Semester 2. We have made the decision to compress the work from the start of exam week to minimise possible disruption to ongoing teaching.
Dual-Mode will replace the existing Capture & Stream setup in these rooms, providing a fully realised hybrid teaching capability. This includes two-way communication between online and in-person participants, whole-room microphone pickup, dual auto-tracking cameras, and a custom designed control panel. Dual-Mode also represents a complete replacement of all equipment in the allocated rooms from new cabling to new lectern PCs.
To read more about the deployment plan for Dual-Mode, please see Hybrid Update #8.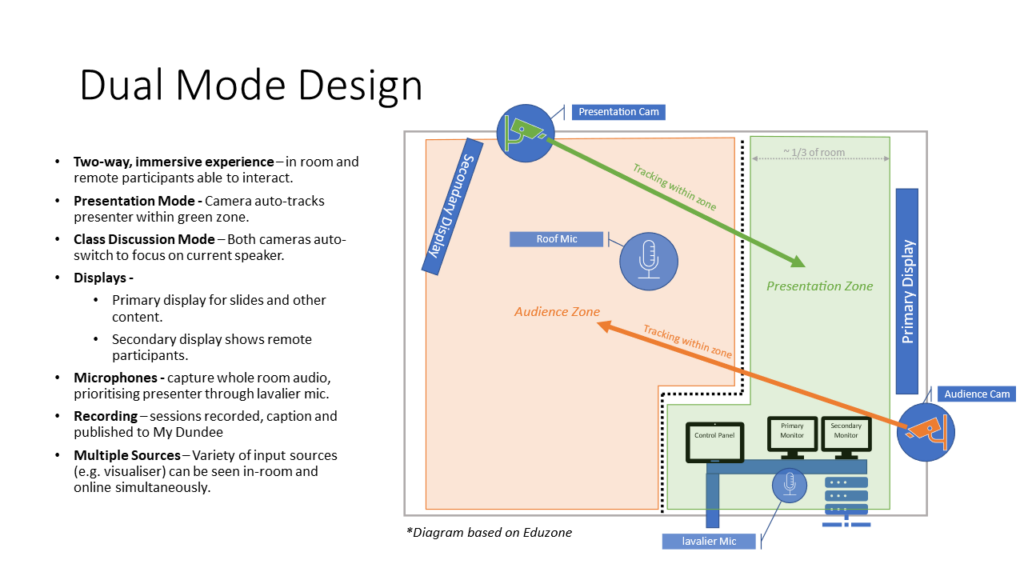 Hands-on Sessions
The two key requests from the teaching community when it comes to learning and getting comfortable with the new facilities are getting hands-on experience, and flexibility of that access to suit busy schedules. To that end, the Eduzone (Ground floor, Main Library) will be made available from Friday, 10 December 2021*. The room has been kitted out to replicate what is being installed in the allocated teaching rooms, allowing all staff to book a timeslot to get as much hands on time as they need before the start of Semester 2.
30-minute slots are available to be booked through the Microsoft Booking App.
These slots are available 0800-2000 every weekday and 0900-2000 at the weekend as long as the Main Library is open.
You can choose between staffed and unstaffed slots.

Staffed slots will have a member of the hybrid team on hand to guide you and answer any questions.

Unstaffed slots are for people happy to follow the written guides provided (remember the service has been designed to be as easy to use as we can possibly make it)

The booking system is live now and will initially allow you to book slots from 10 December through to 28 January, excluding University winter closure.
Bookings are made by individuals, but you can book for groups of up to 10 people (we ask that you do not exceed this number in the room)
*Note that we'd previously indicated that the Eduzone would be available from the Wednesday (08/12) but we've had to adjust that to squeeze-in some last minute work and quality checks.
Next Update
We'll post further progress updates on this blog and send another all-staff email just before the start of Semester 2. You can also look out for full instructions, a detailed walkthrough video and access an online demo of the new control panels in the next two weeks. These will be published on the CTIL service knowledgebase on this site when ready. We'll make sure all updates go out on Teams as well to ensure you don't miss a thing.
There is a huge amount of work going on in the background to make all this possible and meet our deadlines. If there are any delays or issues that might impact the timetable, we will continue to be open and make sure you have the information you need. As always, please let me know directly if you have any questions, suggestions or just fancy a friendly chat 😊.