Lecture Capture and Improving Teaching Facilities
Access to reliable and appropriately equipped teaching facilities have been an ongoing concern for the teaching community, especially as we increase our in-person activities. Something as simple as a malfunctioning visualizer or not being able to access in-room support can have a big impact on teaching activities, stressing the lecturer and detracting from the student experience. In addition, the current policy calls for lecture recording where appropriate, but unless you are using a Hybrid room or one of the mobile kits, you will not have the equipment required. In this post, I'm going to talk about how UoDIT and CTIL are going to work off the momentum gathered through the Hybrid project to improve our standard teaching spaces and provide additional in-room support for the remainder of this semester and into the summer while we wait for the Digital Strategy to gear up.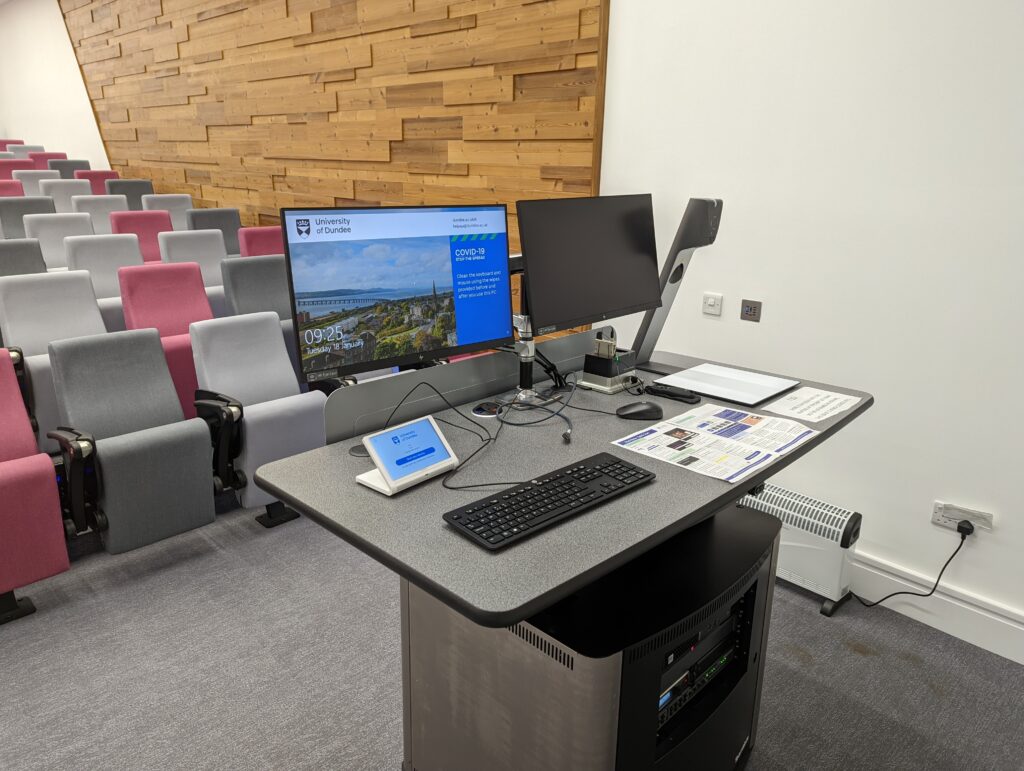 Understanding the Challenge
There is no escaping the fact that our teaching estate requires investment. This investment needs to address issues of the facilities themselves, the underlying infrastructure and the services that bring it all together to meet the requirements of the community. Additionally, the Hybrid Teaching Spaces project is showing the value of well designed, equipped and supported teaching facilities, but arguably their success has further highlighted issues with the remaining estate. This is not a straight forward or quick-to-resolve challenge, nor the responsibility of only a single department, but while we wait for the University strategy there is a pressing need to start making a difference now.
Objectives
Rapidly design and deploy minimum viable lecture capture kit to all centrally managed teaching rooms. This will be based on the existing Capture and Stream solution and establish a baseline capability.
Establish and provide training for a simple lecture capture solution using the existing YuJa video management platform.
Increase the available in-room support by recruiting two additional temporary staff to join Indrani and Josh. This team will work along side existing resource in End-User-Services and focus on supporting teaching activities.
Survey all centrally controlled teaching spaces, cataloguing faults and notifying the appropriate follow-on service. This survey will also allow us to start planning future improvements to our teaching estate.
Implement pro-active teaching checks.
Improve communication between departments and users, including a new room tracker that shows everyone an up to date status of rooms.
To meet these objectives, we are forming a small cross-departmental team and recruiting some additional short term staff using existing budgets. The additional staff will focus on areas of front-line support, installation, video management and service design.
Timeline & Managing Expectations
This work is focused on making an impact in the short to medium term while we wait for the outcomes of the University Strategy, and particularly the Digital component of that strategy to produce the long term path. We have already started the process of procuring the required lecture capture kit, surveying rooms and recruiting the additional staff.
However, I need to be clear that with so little of the semester remaining our goals are focused on making a difference where we can. As discussed a little above, there is no quick fix to the complex challenges we have around teaching facilities, but this work represents a genuine effort to move things in the right direction.
A future path?
A number of people have pointed out that we've been throwing around new terms all over the place, whether we're talking about Capture & Stream, Dual-Mode, Hybrid, Lecture Capture. To make life simple for understanding which teaching rooms do what, we're currently discussing adopting following model:
| Room Type | Description |
| --- | --- |
| Standard | The baseline teaching room capability including the typical setup with additional kit for lecture capture and light streaming. |
| Enhanced | Built from the core 50 Hybrid rooms, we would continue to develop these rooms based on requirements coming from our teaching staff to cover hybrid, advanced recording and a range of other flexible teaching modes. |
| Media Studio | Built from the existing micro-studios brought in toward the start of the pandemic, these rooms will provide enhanced media creation spaces for teachers and students. |
| Specialist | Specific rooms intended for specialist purposes such as labs, art studios and other bespoke facilities. |
Proposed teaching room designations
Closing
There will be a lot more information to come out around this work, so please keep an eye on the Digital channel in the Education & Student Experience Planning team.