My Dundee unavailable for some on-campus users (RESOLVED)
Yesterday (10/11/2022), on-campus users experienced difficulties accessing My Dundee. Although we are still investigating the root cause, the issue appears to have been resolved. Read on for more information.
What happened?
Yesterday 10/11/2022, some users attempting to access My Dundee while on a university network e.g. Eduroam or on a University PC, some users reported that they get an error like this: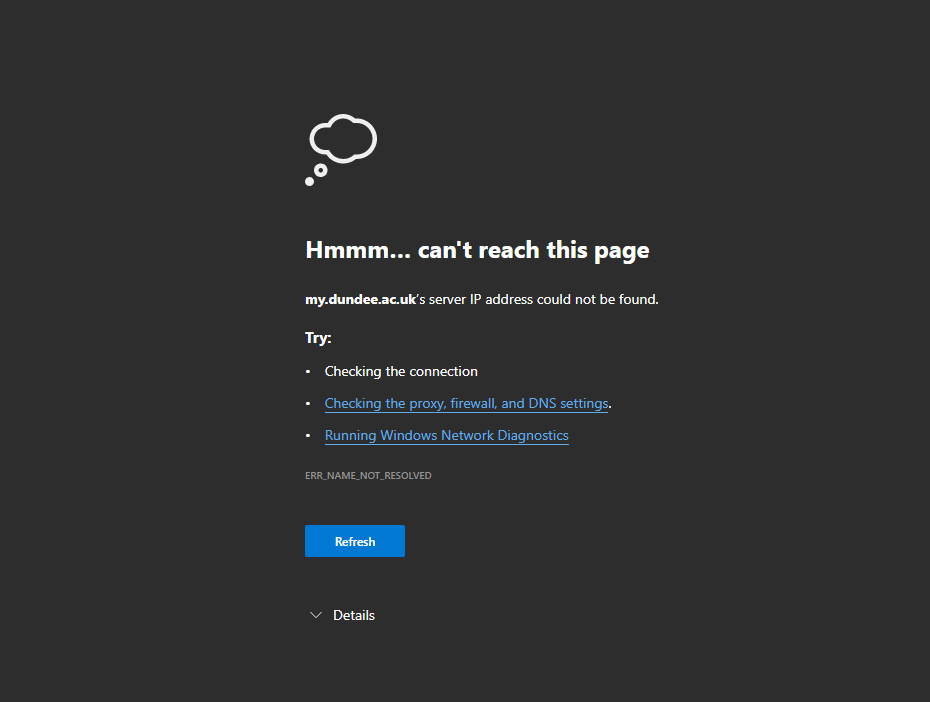 This was an issue for on-campus users and did not appear to affect anyone accessing from an external network, such as their home ISP or a mobile data connection. It also seemed to be intermittent, so it did not affect all users.
What to do if you still have an issue accessing My Dundee?
Although we believe this issue is resolved, we are unsure of the root cause. This means that we will continue to monitor the situation and ask that anyone experiencing continuing problems accessing My Dundee, try the following procedure:
Flush the DNS Cache (third party website)
If that doesn't resolve the issue, then please report it to Help4u, detailing when you experienced the issue, your device and the browser you are using.
What we're doing
UoDIT are working with our third-party provider, Anthology, to identify the root cause of yesterday's issue so that we can ensure that it does not reoccur.