What is it?
This guide takes you through the basic steps for editing your video in YuJa.
What does it do?
Return to the YuJa channel you have uploaded/wish to upload your video to. Clicking into My Media Collection will show you all your videos, not just the ones uploaded to your channel.
For Instructors
Edit your video in YuJa
Use advanced settings
Add additional slides
Add text
Cut clips from your video
What should I know?
Step 1: Hover over your video and click Edit. This takes you to a separate Video Editor. From here, you can Top-and-Tail your video (snip things from the start and end), add extra slides and overlays, insert text, and cut bits out of your video.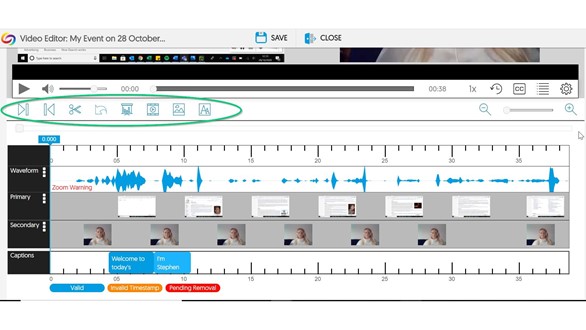 The icons:
The first two icons that look like arrows can be used to trim the beginning and end of your video. Play the video until the point you want to start from (to snip the beginning) or end at (to snip the end) and click on the appropriate icon.
The scissors icon to be used to cut at any point in the video. Click play then pause when you want to cut. Click on the scissors icon, then click in at the time stamp in the direction that you want to cut. You can move the blue line to play to preview the video without the clip you want to cut. To adjust the clip to remove, move the lines at the beginning and end of the grey area to make it longer or shorter.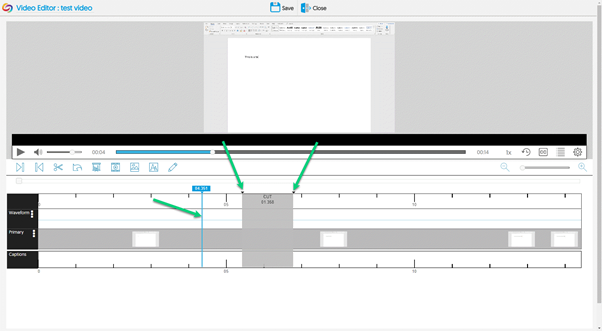 The fourth icon (looks like an arrow pointing down and to the left) will undo the last change.
The next icon (looks like a screen that has a chart on it) can be used to insert a new slide or image. You'll be asked to upload a file that will override the current image on the screen,
The sixth icon (looks like film) can be used to upload an mp4 file to add video. You can use this to 'top and tail' your videos.
The next icon along (looks like an image with mountains) can be used to edit images. You can use this to upload a file to use as a watermark or overlay, you can insert a blur or blackout a region, or add a virtual background.
The penultimate icon (looks like text)can be used to add text overlay to the video.
The last icon (looks like a pencil) can be used to add drawing on the video. This can be useful if you need to visually point to something on the screen that you did not do at the time of recording.