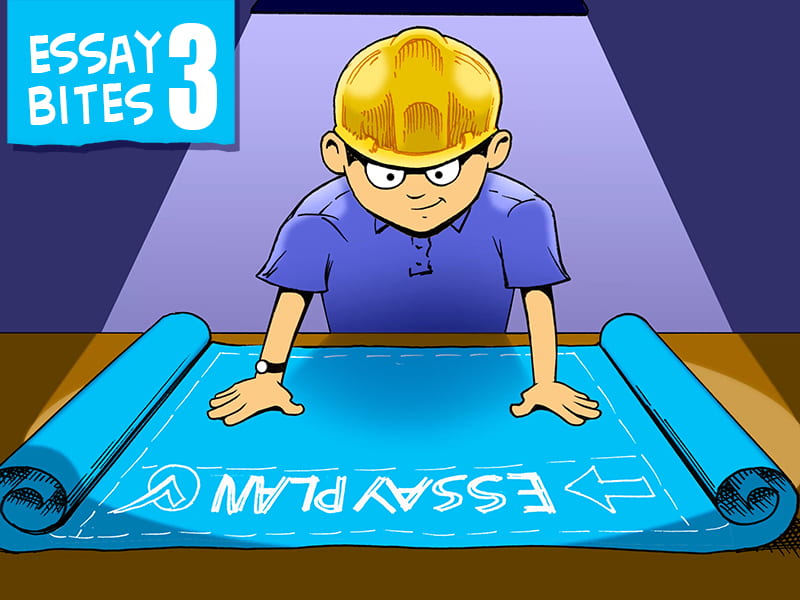 In this Bite we'll look at how to go about planning your essay. This is a stage that many people don't always bother with but here we'll explain why it should always be part of your essay writing process, as well as exploring a few of the key things to keep in mind when building your own plan.
Planning your answer
In Essay Bites 1 & 2 we looked at analysing the question and working out exactly what is required of you, brainstorming what you already know and carrying out good, focussed research to find evidence to back up your arguments and to fill in the gaps in your understanding. Time to get on with writing your essay? Not quite – a little time spent planning and structuring your answer at this point will pay you back many times over in terms of a more coherent and effective answer and, hopefully, lead to better marks. Don't be tempted to skip this stage – it's usually pretty evident to a marker where an essay is unplanned and typed-up on the go. Conversely, a well organised and carefully planned response to the question will often stick out like a sore thumb, for all the right reasons.
Different people like to plan in different ways, and there is no single correct method – it's all about what works best for you. Two of the more common approaches are the linear plan and the brainstorm or mindmap. Whichever approach you take though, you want to wind up with a clear sense of the logical structure your essay will take. We'll look at basic essay structure over the next few Bites. For now, here are a few more tips regarding your plan:
Be realistic
Take into account the word count/word limit, and know realistically how much material you can cover in that context. If you've researched effectively, it is likely that you will have gathered too much material. It may be frustrating, but you're probably going to have to leave some relevant material out. Part of the exercise in writing an essay is proving that you have the skills necessary to choose the most relevant and effective arguments and evidence to answer the question in the allotted words. Use your plan to prune your material down so that it realistically reflects the word count. This is far more effective than having to cut large amounts of text out of the final essay to meet this requirement.
Word counts
Different Schools have different guidelines when it comes to word counts and limits. In general, a word count is a rough guide. Some people talk about a notional 10% above or below the word count but this isn't an official policy and it's always best to plan as closely as possible to the stated number of words. Word limits are exactly what the name suggests, and your essay should therefore be no longer than the number of words set. Being clear about the criteria you are working towards is very important, so if in doubt you should seek clarification from your tutor or School Office on the exact situation for your assignment.
Be detailed
The exact level of detail that you plan to will be a matter of personal preference, but remember that the more detailed the plan, the easier the writing. At a bare minimum you should look to list (in order) each of your key arguments, along with the evidence you plan to use and the analytical points you wish to make. You should find it helpful to think about the structures mentioned in the next few bites when you're planning your essay.
Know where you're going
One of the key advantages of planning your essay is that it should give you a sense of direction. In particular, it should equip you with a sense of what you're likely to conclude before you start writing the essay. As you can perhaps imagine, an essay written with concluding arguments already in mind is likely to be a lot more coherent and focused than one which meanders along in the hope of stumbling upon some sort of valid or relevant conclusion.
Be guided but not constrained
The whole point of a plan is that it helps you to write a more effective essay. Hopefully the benefits are beginning to seem obvious, but writing is an inherently creative process so you should also be prepared for new ideas or arguments, or new directions, to pop into your head during the writing phase. If you need to adjust your structure you can, but that's very different from starting with a blank page and hoping that the creative process drives you along. After all, you can't change plans if you don't have a plan to begin with.
Many people already use plans to good effect, but many others don't bother, seeing them as ineffective and a waste of time. Hopefully we've managed to persuade you of the benefits of planning – it really does make a tangible difference to the quality of essays. But before you rush off to plan your next assignment, have a look at the next few Bites, which discuss the basic structure of the key parts of an essay. That sense of structure well help you to make your essay plans even more effective.