There are a few things you may want to think about before starting to create questions in Questionmark.
Topic folders
Questions (and assessments) in Questionmark OnDemand (QMOD) are grouped and stored in topics. The Assessment team create top-level topic folders and these are named using the module code. This makes it easy to locate and identify questions/assessments that need to be published and scheduled to students.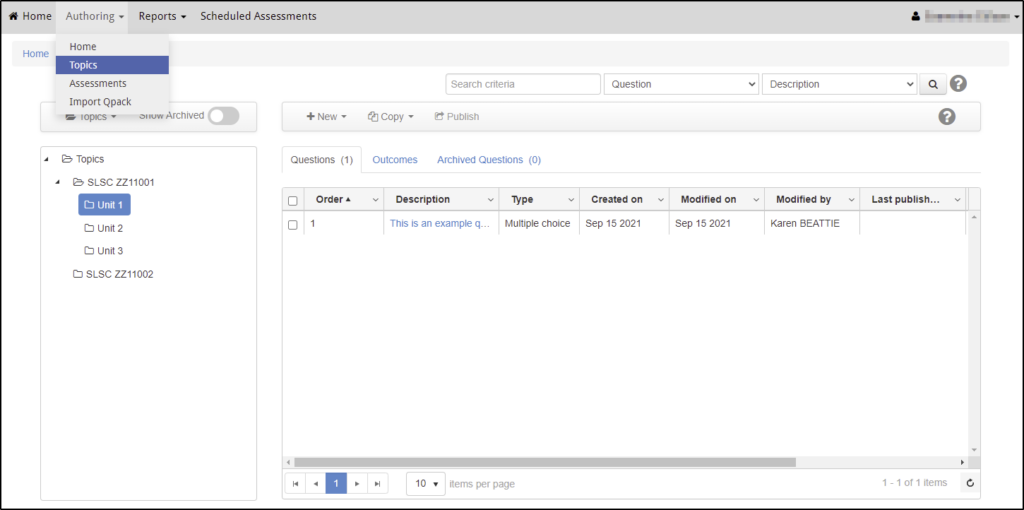 Once logged into QMOD, click on Authoring then select Topics from the drop-down menu. Once you have been allocated permissions to the top-level topic, you can create sub-topics and organise these in different ways depending on your requirements. If starting a question bank from scratch, it's a good time to think about how you want to group your questions, especially if you want to use and present topic outcomes to students*, or randomly select questions from topic folders when building your assessment. You might choose to group questions with a similar theme, subject or purpose.
QMOD is setup to allow collaborative authoring, so if several members of staff require access to the same topic, contact the Assessment team with the staff names and the topic folder(s) they require access to. You can also request access to an existing topic.
To create a new topic sub-folder, right-click on the name of the existing topic folder and select New. Enter an appropriate name for your sub-topic and press Enter.
Naming conventions
When it comes to naming your topics and questions, try and think about how to identify these clearly. You may end up wanting to display topic outcome results to students, and question names will display in any results you view/export, so having a clear and unique name for these can be helpful. Here is some key guidance to follow:
A unique, identifiable name for your topics, questions and assessments can be particularly helpful, especially if you are collaboratively authoring questions. We have seen a number of topics named "New Topic 1" or "Test".
The following special characters cannot be used in topic, question or assessment names: " ' & / \ , £ | < > : ; # +
Where at all possible, try to avoid renaming topics, especially if an assessment has been published which references the topic. Below are the official warnings from Questionmark:

"When creating a topic, rename the new topic before trying out questions from the topic or publishing assessments that pull content from the topic to avoid issues."
"When copying a topic, rename the pasted topic before trying out questions from the topic or publishing assessments that pull content from the topic to avoid issues."
Choosing a question type
Before you start writing and creating questions for your assessment you may want to consider what you want to assess and how you want students to answer the question. You can read the descriptions for all the question types available in QMOD Authoring* to gain background knowledge of your options and then it's usually a good idea to login to QMOD and try-out the different question types available to you.
We have created a generic example assessment for staff to allow you to familiarise yourself with some of the question types available to you in QMOD. (Access to the example assessment is anonymous and answers are not recorded.)
Writing good questions (external resources)
A guide to writing good items – video produced by Questionmark (8 minute overview)
Item Writing – Tips and techniques for writing good questions – webinar recording of a session delivered by Brian McNamara, Product Manager for Customer Engagement at Questionmark (60 minute webinar)
Tips
*Register for QMOD Support pages
Check out the Questionmark Support site for lots of advice and information. You may need to sign up for a Questionmark Communities/Support account in order to access the information.
Next steps…
See our guide on Creating questions in QMOD – the basics.