UoD SendTo
This is the process for the submission of assessment papers for creation in Questionmark OnDemand (QMOD) by the Assessment team. Papers and student lists should not be e-mailed to the Assessment team directly, and will be immediately deleted if shared in this way.
For academic year 21/22, we will make use of the University UoD SendTo service. Use your UoD credentials (first part of username excluding @dundee.ac.uk, and password) to login and upload a finalised Word copy of the assessment paper including correct answers and marks per question. Where this service asks for you to "Add Recipients", please use the email address assess@dundee.ac.uk and the Assessment team will be able to retrieve the file. If you choose to add a passphrase to your exam file when sending using this service, you will need to notify us of this separately.
(Files are automatically deleted from UoD SendTo 14 days after you upload them.)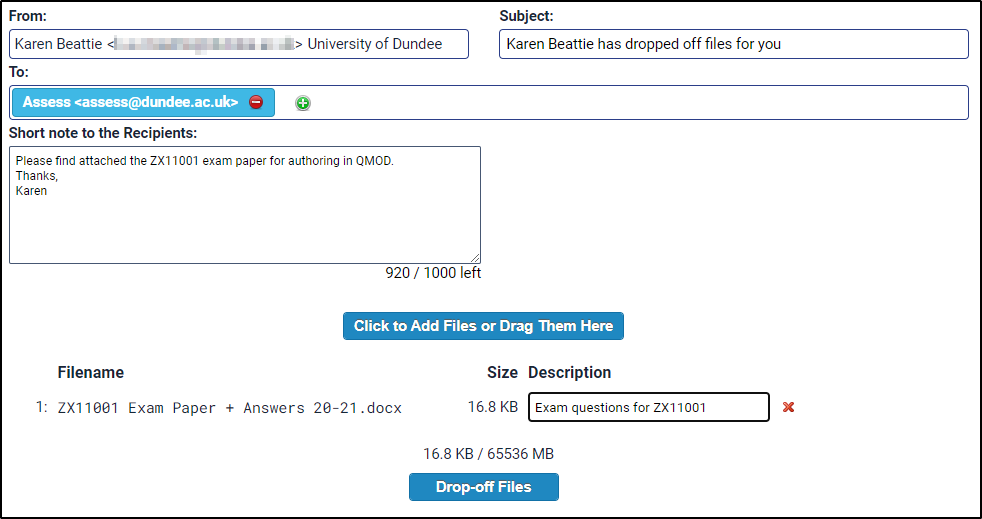 Tips
Ensure that your assessment paper contains the following:

Correct answers (including any alternatives for free text answers)
Marks per question and how the question should score (e.g. 1 mark per correct answer)
Half marks are not possible, so ensure that scoring uses whole marks
Specify any negative marks that are required
Indicate if you want the marks per question to be presented to students during the assessment

Don't e-mail us student lists/information, please use the UoD SendTo service
Share your assessment papers with the Assessment Team as early as you can (at least two weeks before it is due to take place) to allow plenty of time for creation, testing, updating and scheduling.
Next steps…
See our guide on Testing your assessment in QMOD