What was previously done?
When UoD moved to Ultra, there was an issue which resulted in Turnitin assignments having to be graded out of 23 points rather than using the Alphanumeric conversion.
We recommended pointing students to the Assessment Scales page. As this can be tricky and students get confused with the different grading schemas, Gavin Murray from SHNS has shared this solution to allocate alphanumeric grades to Turnitin assignments.
Note that this is not done from the Turnitin assignment itself, rather it will create a new line in the Gradebook consisting solely of the converted mark.
---
What is it?
Alphanumeric grades can be allocated to Turnitin assignments when marking out of 23 points by using the Gradebook rather than Turnitin itself.
---
What does it do?
This guide will show you how to add an alphanumeric grade calculation to Turnitin assignments.
---
What should I know?
Step 1: Go into your module and navigate to the Gradebook
Step 2: Click on the + sign and select Add Calculation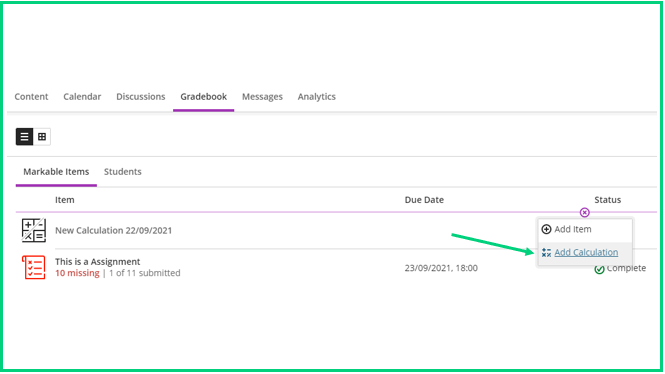 Step 3: Name the calculation in the title bar (make sure this is clearly named for students and other markers). You can also add a description if you'd like, but this is not required.
Step 4: In the drop-down menu for Select a mark diagram set it to be 23 to Alphanumeric
Step 5: From the side menu, select Total from the Functions and Variables area. This will generate a button in the main calculation area that says Total.
Step 6: Click on the arrow to open the dropdown in total and select the single assignment you would like to add the alphanumeric calculation to.
Note: when you click on the dropdown menu in "Total" you may end up clicking on the x which deletes the action. Hover over the drop-down and wait for this to appear so you don't accidentally delete it.
Step 7: In order to release content to students remember to select the drop down top-right of the screen to change Hidden from students to Visible to students.
Step 8: Click save.
That's it! You will need to repeat this process for each individual Turnitin assignment that requires this calculation. We have tested this and can confirm that it is accurate as long as you follow the process above!