Capture & Stream is a hybrid-lite teaching mode being rolled out as part of the university's Hybrid Teaching Spaces project. It allows in-person teaching to be joined simultaneously by online participants, allowing the online students to watch and listen to the teacher without having to be in the room. In comparison to the future Dual-Mode hybrid, the minimal 2-way offers engagement options for the online participants. This will gradually be replaced by the far more capable Dual-Mode hybrid as facilities become available.
Key information
Capture & Stream is intended as an intermediary 'hybrid-lite' solution while the more capable Dual-Mode rooms are brought online. Think traditional lecture capture, with live streaming.
Simplistically, this workflow is similar to running an online Collaborate session, but with both students in the room with the teacher as well as online participants.
As the core 50 hybrid rooms are commissioned, Capture & Stream will remain as a flexible, portable option for simultaneous teaching of in-person/online sessions.
Students accessing online should be made aware of the restricted interaction options of this mode and assured that Dual Mode will bring significant improvement.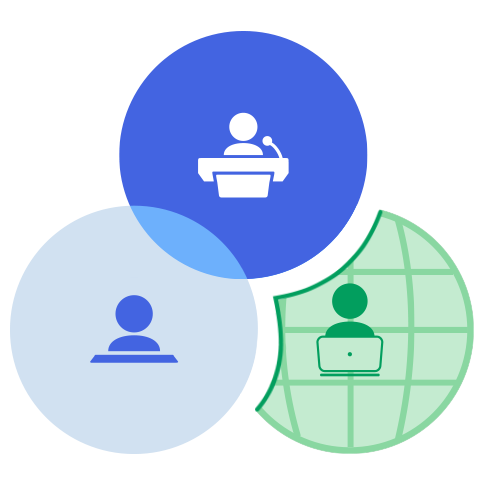 Summary
When using this mode, the teacher is in the room with in-person students as usual. The remote students can join through Collaborate to view any presentations, listen to the lecturer speak and watch, all be it with a limited view.
The components of this teaching mode are:
A teaching room complete with Lecturn PC (or laptop), Projector/Screen etc.
A USB Webcam
A good quality USB Mic
An online teaching application accessible to your online students and capable pof recording your session e.g. Collaborate
Students in the room
Students joining online
When you enter a room, you set up your session within the room, switch on the computer, prepare any slides or presentation materials. Along side this, you will you will connect to you students via your module's Collaborate Course Room. There will be a simple microphone and camera to allow online participants to hear and , to an extent, see the session, with any presentation content being shared to both the in-class projector and through Collaborate using the share screen functionality. In person students will engage with the session face to face and via the projector screen as usual. Online students can follow along, but will have significantly limited engagement options due to the limited hardware of this intermediary mode.
Walkthrough Video
1. Pre-session
1.1 Timetabling
Central timetabling informs students when teaching sessions are scheduled via the usual channels.


Since there are no specific joining instructions attached to these entries, you will need to ensure that your remote students are clearly informed of how to connect i.e. via the Collaborate course room.
1.2 Session planning
You should plan your teaching session with additional consideration for those joining online. Capture & Stream is a limited form of hybrid, so you need to be aware of the limitations any online students will experience. See the section titled 'The online student's experience' below.
1.3 Communicate with your students
Even in 'normal' times, you cannot take anything for granted in terms of what your students are aware/not-aware of. It should go without saying that frequent and consistent communication is key, especially when a segment of your students are remote.
Be sure that along with any pre-session notes, readings etc. you prepare your students for where and how the session will run along with guidance on recording, etiquette etc.
2. Setting up (in-room)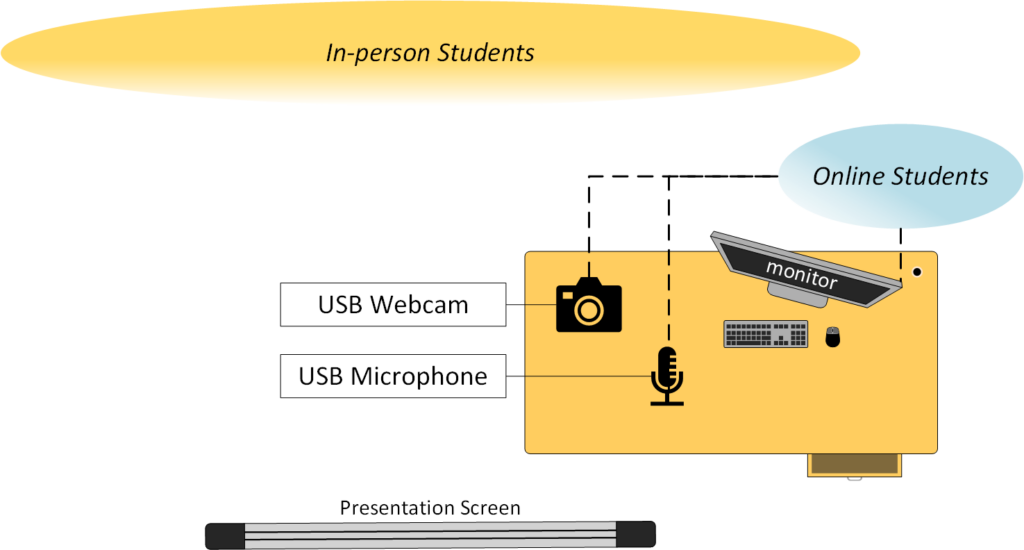 2.1 Switch on the AV Panel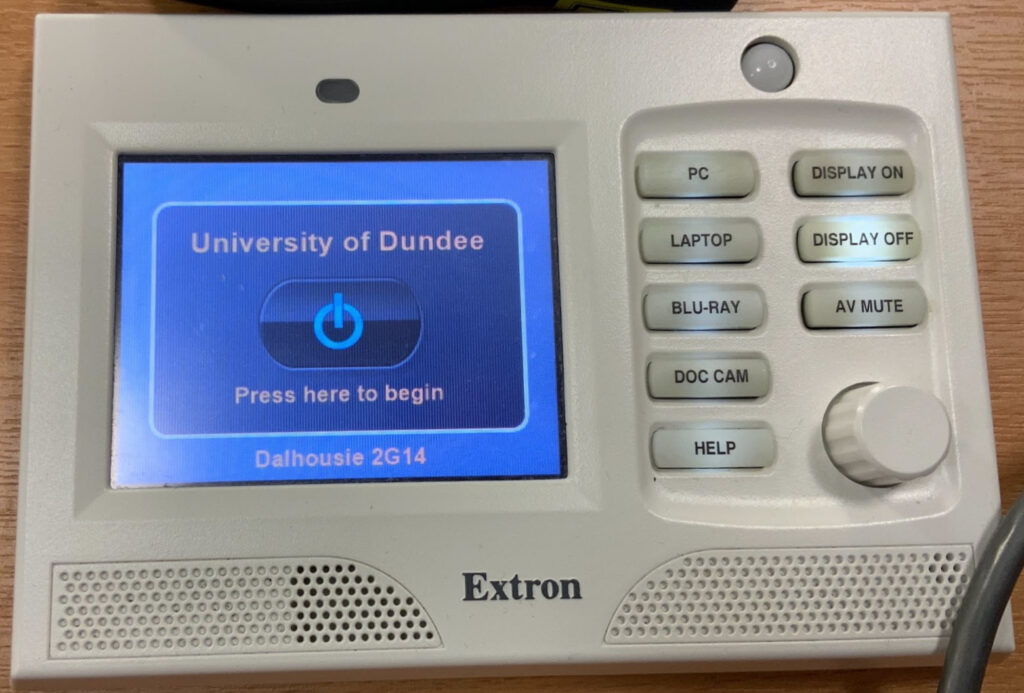 The AV panels will remain the same as pre-lockdown until rooms are upgraded to Dual-Mode. You should switch the panel on and when the system has warmed up, ensure that the projector and monitor are displaying the same thing, just as you would in a normal session.
Remember, in rooms with a single monitors, you will be juggling between your collaborate sessions (web browser) and any presentation content you are displaying.
2.2 Login to the Lecturn PC
Nothing special here – log in to the lectern PC with your usual university credentials. I'm sure this was a well practiced muscle memory in 2019, but it's surprising how quickly you lose that.
2.3 Check the Mic & Webcam
As with the diagram above, Capture & Stream requires a USB Mic and Webcam. These devices are being provided with stands and should be plugged into the lectern PC ready to go.
Let's face it, people don't always leave the room as they find it, so you may need to double check that each device is plugged in and positioned appropriately. Rooms will have the default locations for these devices marked on the desks.
USB Microphone
The Microphone is more important in C&S than the camera, as it is the main channel for you to communicate with your students, since the camera view is so limited.
Place the microphones close to where you will be standing/sitting, so far as the cable length allows.
These microphones will have limited range so as you talk, avoid wandering beyond the front of the room, around the projector screen.
Speak in a clear voice, projecting well without shouting (or making yourself hoarse)
Acoustics will vary from room to room so engage with your online students to ensure they can hear you.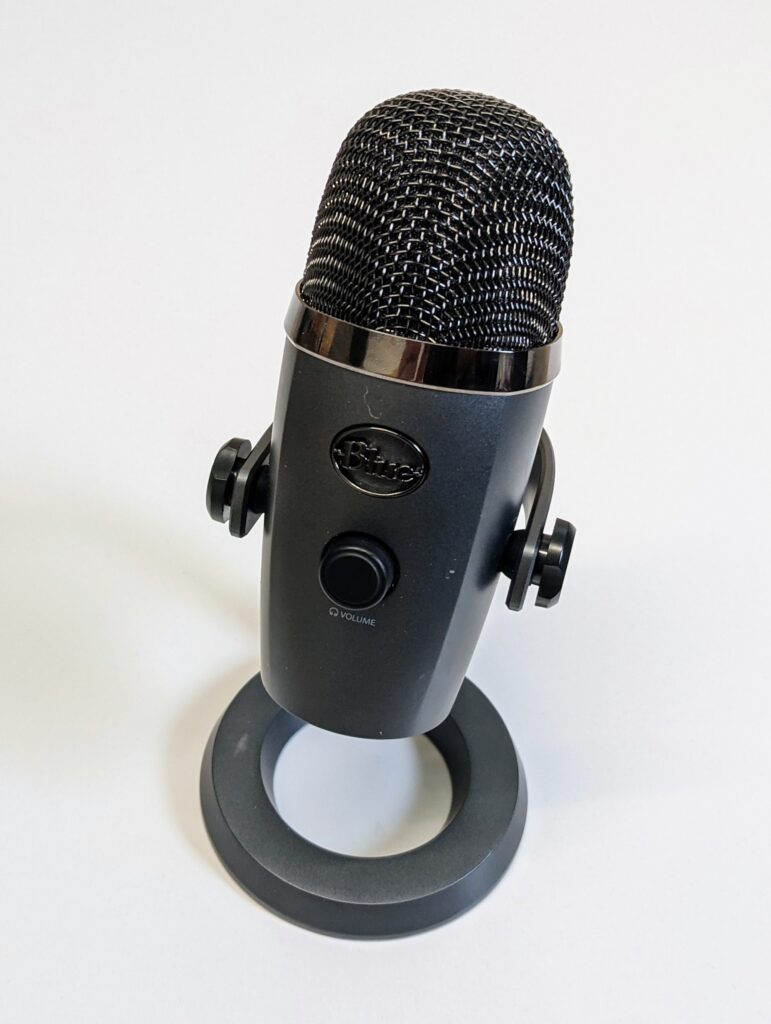 USB Web Camera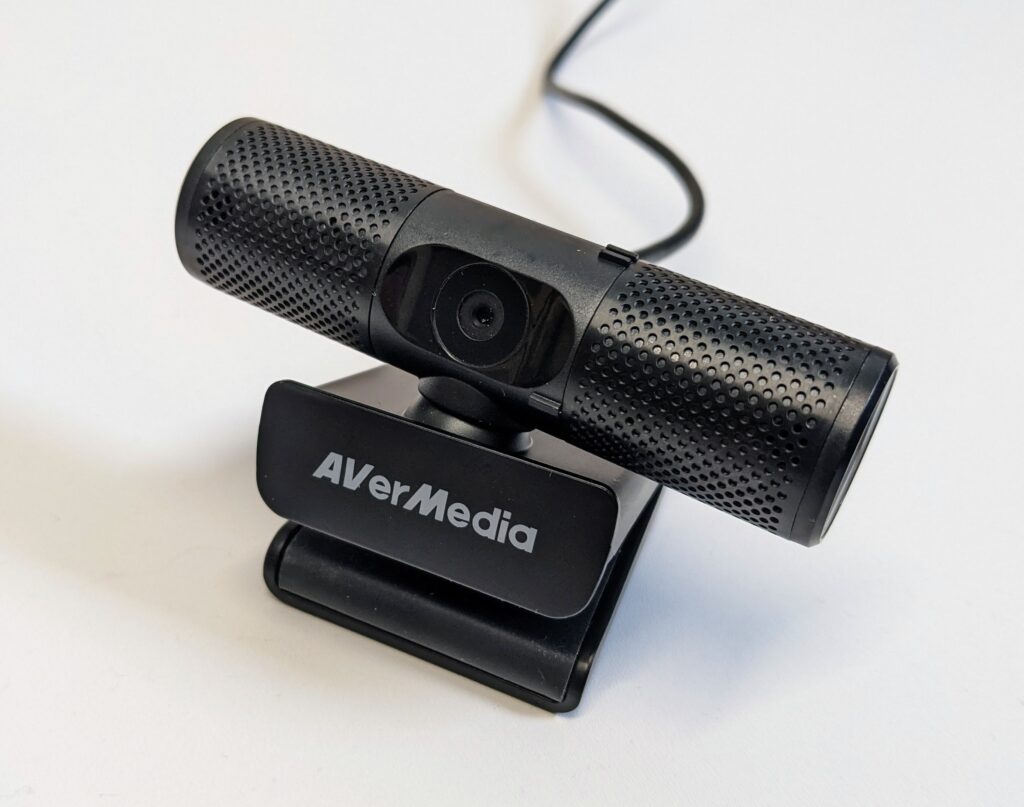 The USB cameras in C&S are there to give online students a greater sense of presence rather than providing the 'in-room' experience that the future Dual-Mode setup will bring.
Position the camera to get a view of the teacher. This would usually be the span of the front of the teaching room.
These cameras do not autofocus or track and should not be relied on to communicate information. (see 'Presenting content' below)
2.4 Start Collaborate session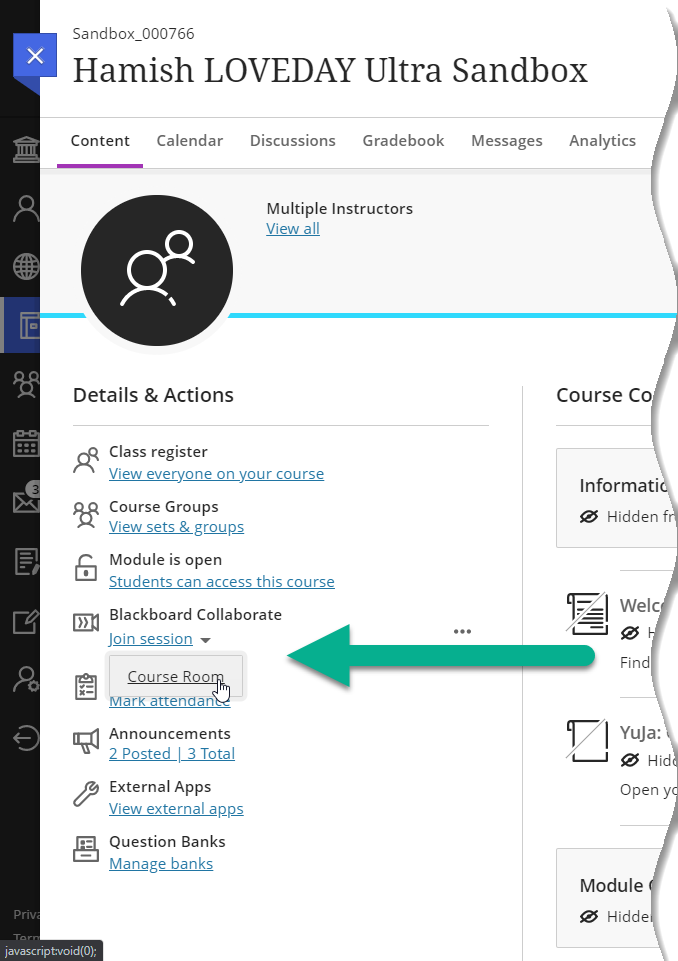 Your students should be joining your Collaborate course room as you get setup so once the hardware is checked and ready you can open up your module in My Dundee and enter the Course Room.
You can use the default browser on the lectern PC (Edge) to go to My Dundee and find your module.
You can find out more about accessing and configuring your course room on the Blackboard support pages.
When you enter the course room, you will be a moderator and have all the controls as you'd expect.
This then works as a standard collaborate session exactly as many of you will have been doing in the last year.
2.5 Testing, testing 1,2,3…
It is essential that you check that your camera and microphone are working with Collaborate. You can do so through the settings in the session.
Choosing the right microphone and camera source will be a little tricky with lectern computers, however labelling inside the room will guide you to choose the right ones.
Once selected, you can go ahead and share the camera and mic through the main collaborate window.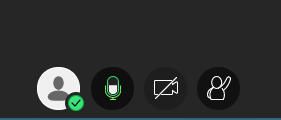 Always check with your online students that they can hear and see you. They can give you a thumbs up or comment in the chat.
Also ensure that your in-person students are aware when the mic is live.
3. Running your session
The limitations of this mode will also limit the interaction options between the in-person experience and the online experience.
3.1 Presenting
When presenting slides or other content, you need to ensure that you share to both the in-person and online audiences. The simplest route to do this is to have what's displayed on the lectern monitor shared to both the projector and the Collaborate session at the same time.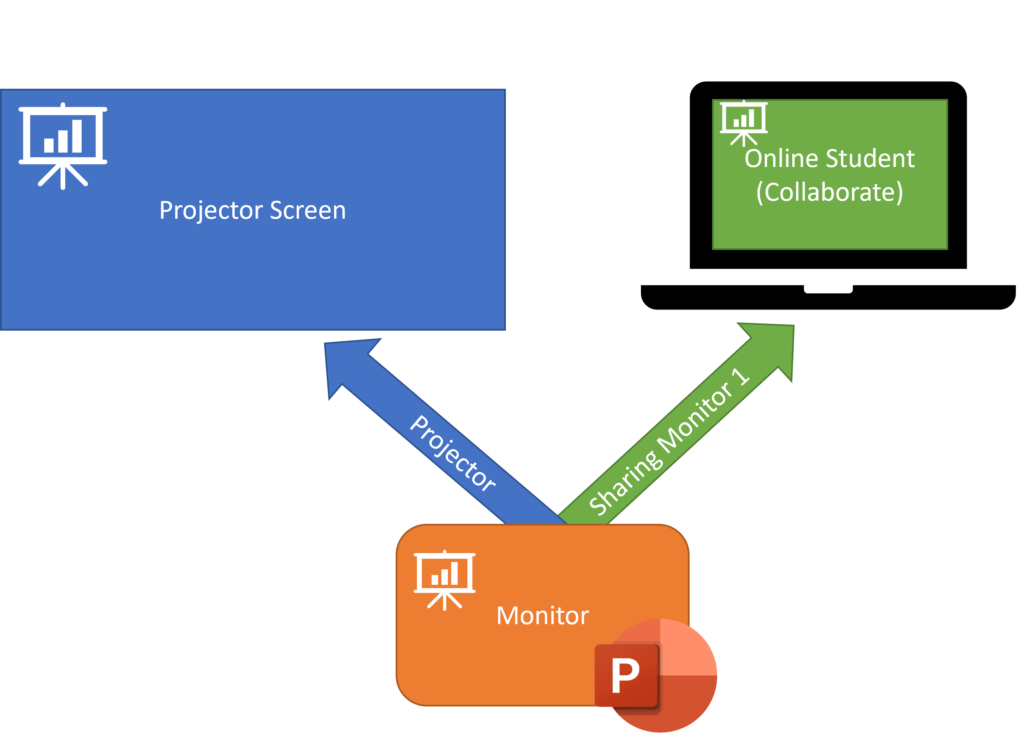 By default in teaching rooms, what is displayed on the monitor is also displayed on the projector.
To show the same thing to online students you will need to share the screen via the Collaborate share tool (Share Content > Share Application/Screen > Entire Screen)
If you want to focus on the camera view, you can follow the same process, but choose to share your camera. This forces your camera view to dominate your online students screens.
If you're playing any media on the lectern computer such as a video, make sure you share system audio when presenting through Collaborate.
For more detail on sharing content in a Collaborate session, see these help pages.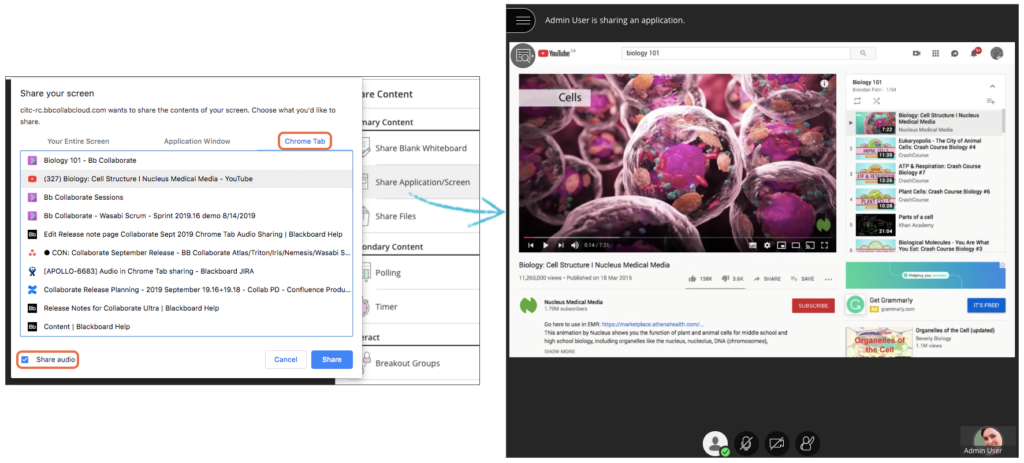 Adventurous people can experiment with different ways and combinations of source sharing, but the rule of thumb is to ensure you share the monitor with your online students. This way, what is on the monitor -> is what is on the projector -> is what is displayed to students online.
3.2 Interacting with online students
As we've said many times, Capture & Stream has limited interaction options for online students. However, there are some options available to make the experience more than simply a passive viewing experience.
The Collaborate chat function is available and you should establish a habit of checking it every so often, just as you naturally do with your in person audience to see reactions and spot any questions.
Online students can raise their hands using the Collaborate feature, which will also produce a little ping noise over the room audio. This is a good way for online students to get your attention, but remember to consider etiquette for the use of this feature.
The microphone is the vital link in this mode so make sure your online students can hear you and be sure to reference them frequently.
The camera in this mode is limited, but can create a link for your online students that's better than simply staring at slides with a disembodied voice.
Additional tools can be brought into play such as Mentimeter can create activities and polls that bridge the gap between online and in-person students.
With the limitations of this mode, we recommend you aim for a balanced approach of expectation setting and paying attention to the little things that keep online students connected to the room.
3.4 Recording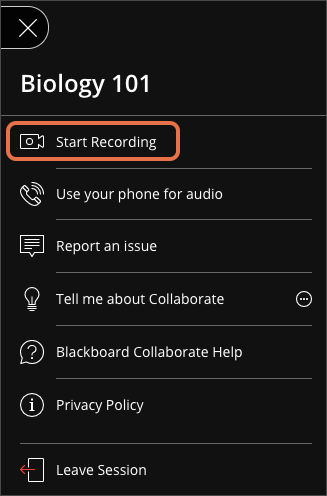 To record your teaching session, you can use the built in Collaborate recording feature.
Recorded sessions are compressed and saved as MP4s. Recordings include activity in the live session.
Audio
Any content shared or active speaker video. If both are shared during the session, only the content shared is recorded.
Captions entered during the live session or added later by a moderator. Only one caption track is available. If your session had more than one caption track, only the first available one is captured.
Chat messages in the Everyone channel. Private messages and chat messages in breakout groups are not recorded.
(above text taken from help.blackboard.com)
You don't need to choose between recording whole sessions and not recording at all. For example, you can break down a session into 50% presentation, 50% discussion. This way you can record the first half for revision/catchup and switch the recording off for the second half.
4. Post-session
4.1 Finishing a session
When bringing your session to an end, remember to:
Stop any recording
Communicate clearly with both in-person and online students that you're bringing the session to an end.
Leave the Collaborate session
4.2 Recordings
Your recording files can be accessed after the session through the Collaborate tool inside your module. By default, the files are available to your student there, but you should move these recording into your YuJa Video Channel, so that they are properly stored, captioned etc.
4.3 Feedback
You and your students will be asked for Feeback on your hybrid teaching experiences. This feedback will be used to improve the service and will be made available.
The online student's experience
We're possibly overdoing the warnings about managing your online students' expectations and experience in Capture & Stream, but it is natural to find yourself focusing on people in the same physical room at yourself at the expense of those trying to keep up through a small backlit rectangle. Online students will have an audio feed, a fixed webcam stream and whatever you present through collaborate