What is it?
You instructor may hold a session in Collaborate. You can use this guide for information on how to find and join those sessions.
Additionally, the course room may be available as a link on your module page. It is an open Collaborate session that anyone can join at any time (unless your instructor has disabled this to reduce confusion).
What does it do?
You will join either specific sessions or the course room from the same place in your module. The key difference is in the name – the course room will always have that title, but your instructor's sessions will be named by the staff on the module.
Pay close attention to which one you are joining, and be sure to contact your module lead if you have any questions about what you are meant to be joining.
What should I know?
Your instructor will tell you how and when to access any sessions they set up in your module. These will typically be held in sessions rather than the course room, but this is at your instructor's discretion.
Step 1: To locate the course room or your session link, go into the Details and Actions menu and click on the Join Session link under Class Collaborate.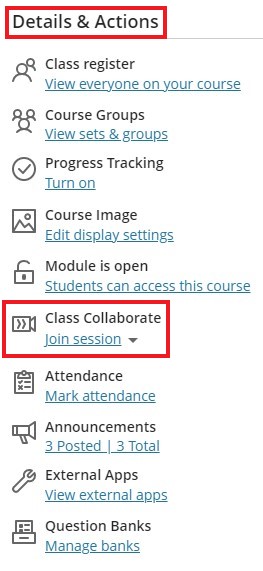 Step 2: Click whichever item you may need to access. Sessions set up by your instructor will only be available at the assigned time.
If you've gone into your module page early and don't see the link, you will need to refresh the page in your browser.
Your module leader may deactivate the Course Room feature at any time. If this has occurred you will not see the Course Room option.