What is it?
The Course Room is always available as a link on your module page. It is an open Collaborate session that anyone can join at any time(unless your instructor has disabled this to reduce confusion). This is ideal for drop-in sessions or as an online common room.
A general Collaborate session will be arranged by module staff and can be accessed via the Blackboard Collaborate Join Session link in the Details and Actions menu in your module. This will only be visible at the appointed time of the session.
What does it do?
Both the course room and the Collaborate session are functionally the same, however, the differences lie in how and when it is accessed and who is it accessed by.
Access the course room
Join a Collaborate session via a course link
What should I know?
Your instructor will tell you how and when to access any sessions they set up in your module. These will typically be held in sessions rather than the course room, but this is at your instructor's discretion. Sessions may be set up with attendance monitoring, so it is important to access these directly from your module page at the specified day and time.
Step 1: To locate the course room or your session link, go into the Details and Actions menu and click on the Join Session link under Blackboard Collaborate.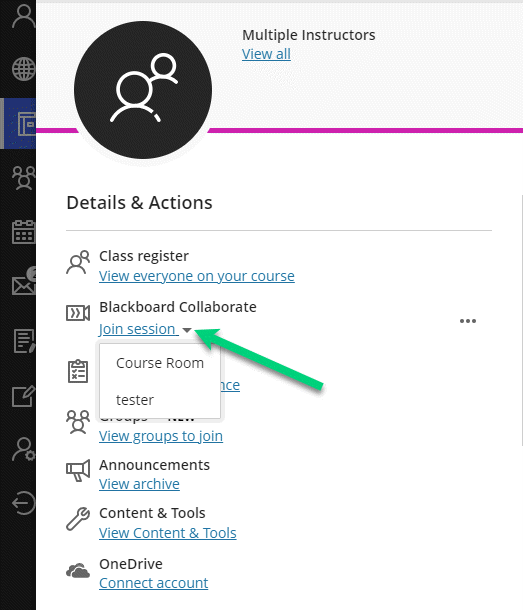 Step 2: Click whichever item you may need to access. Sessions set up by your instructor will only be available at the assigned time.
If you've gone into your module page early and try to access the Join Session link after the session has started and you don't see the link, you will need to refresh the page in your browser.
Note: Your module leader may deactivate the Course Room feature at any time, if this has occurred you will not see the Course Room option.