Important: Data Security
Lecturers should advise their students not to post any personal information onto a Padlet. This is because Padlet pages are unsecured and anyone with the URL could potentially gain access. If you want to use a more secure system, we suggest using the whiteboard tool in Collaborate.
What is Padlet?
Padlet is a tool people use to make and share content with others. Somewhere between a document and a full-fledged website builder, Padlet empowers everyone to make the content they want, whether it's a quick bulletin board, a blog, or a portfolio.
Padlet is:
Easy and Intuitive – you won't find a simpler way to publish original content on the internet, period.
Collaborative – Invite others to work with you on shared projects, assignments, and activities.
Flexible – Add any file type you wish, organize however you want, and make it as public or as private as your heart desires.
Private and secure – Make your padlets viewable only to a select group of people. We transfer data via SSL, go through regular security and vulnerability testing, and encrypt all pages.
What does it do?
Padlet allows users to create, share and contribute to a digital whiteboard, allowing for class discussions, FAQ's, sharing ideas you name it, the whiteboard is yours!
For Students
Share ideas.
Express their views or experiences on a topic in a shared space.
Take shared notes during a live session.
Give feedback on recent activities.
For Staff
You can make live question banks, where you or students can answer student questions
Student discussion boards
Resource lists (got a useful link for students, put it on a padlet)
Getting started
At the top of this guide, click the "access Padlet now" button, click "sign in with Microsoft" and sign in using your UoD account.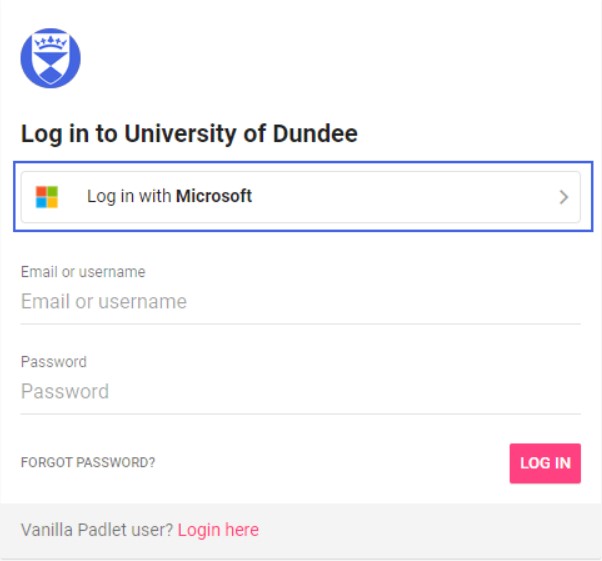 Enter your university email in the email line and this will take you to the University of Dundee single sign on.
Where to get help
If you need help with your Padlet account please log a help4u call with "FAO CTIL" in the text. For help with Blackboard integration please look at the learning spaces blog. You can find general help on how to use Padlet on the Padlet FAQ.
Related links and resources