What's the best way to share a Padlet with others. In this guide we will go over the different options. In all cases, you'll need to start by going to "Share"
Access Padlet's privacy settings:
When you access your Padlet, on the top right click Share.

Add individual users:
For example, another lecturer, or if you want to work 1:1 with a student for dissertation planning etc.
In the Share menu, click Add members.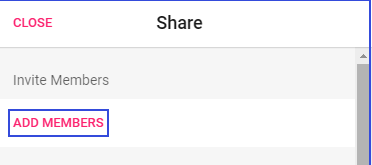 In the Add Members menu, search for the user you want to add using either their name or university username. Note: They have to already have a Padlet account, which staff should but students may not.
Once you have you have selected the member you want to add you can set their individual permissions.
After you select the permission level, click the grey background and click Save.
Sharing with others:
You don't have to add users individually, you could change the privacy of the Padlet. This is the most common way to share a padlet
In the Share menu, under Privacy click Change Privacy.
In the Change Privacy menu, you are presented with four privacy options as well as the visitor permissions drop down menu.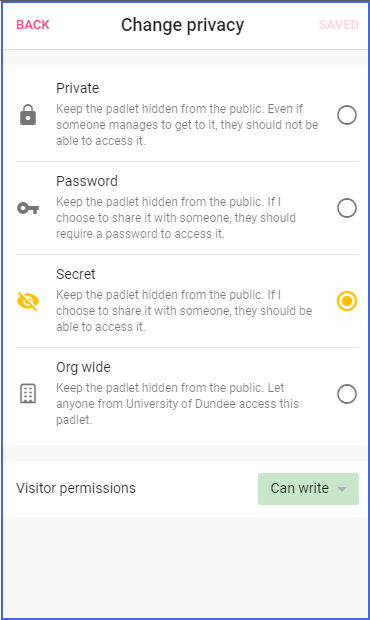 Main privacy settings:
Private

Only allows users you have added to access your Padlet, using the Add Members option above
If you decide to use the LTI sharing AND to create 1 padlet / student, then private can be used.
Password

Hides the Padlet from searching, however, you can still share it by using the Share menu. You will also need to share the password.

Secret

Only those who you share the ULR with can access your Padlet.
This is the most useful setting – you can then use the LTI share in a module, or the link to share to modules or other locations.

Org wide

Padlet can be accessed by everyone in the university, and is listed under "Shared" on everyone's Padlet dashboard.
Use with extreme caution!
Visitor Permissions:
At the bottom of the Change Privacy menu, you will find the Visitor permissions options.
Clicking on the drop down menu will present you with the three visitor permissions options: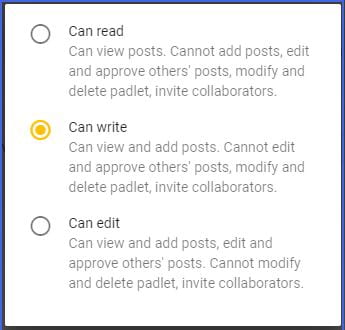 Can read

This will only allow other users to view the content of your Padlet.
This could be useful for content you don't want students to edit (e.g. module overview)

Can write

This will allow other users to add content to your Padlet.
This is probably the most common – you'll usually want students to add content.

Can edit

This will allow other users to add, remove and edit any content on your Padlet.
Use with extreme caution!