Make your Module accessible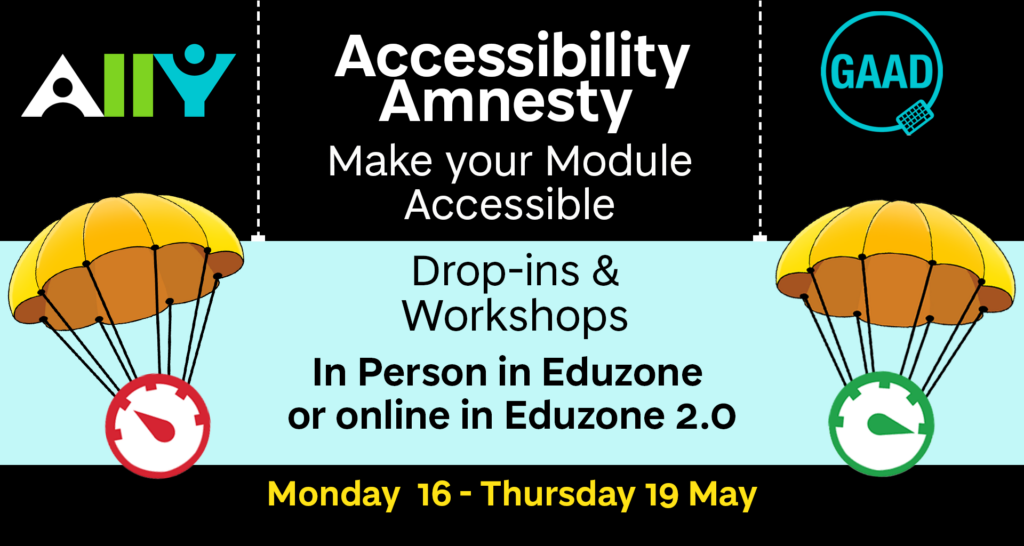 19th May 2022 is this year's "Global Accessibility Awareness Day", and Blackboard Ally are running "Fix Your Content Day" which we've signed up to.

Overview
| Day (week beg 16/05) | Drop ins | Workshops |
| --- | --- | --- |
| Monday | 10 – 11, 2 – 3 | x |
| Tuesday | 12 – 1 | 10 – 11 |
| Wednesday | 3 – 4 | 10 – 11, 1 – 2 |
| Thursday | 11 – 12, 2 – 3 | x |
Schedule for the Week.
Daily Drop-Ins
In order to help staff, we're running daily "Accessibility Amnesty" drop-ins between Monday 16th May and Thursday 19th May. They'll be hybrid, both in Eduzone, in the Main Library and online in Eduzone 2.0. You'll find friendly members of CTIL to help you look at your Ally report for your module, and help you to understand what it means, and how to fix it.
Workshops
We're also running workshops, these are designed to help you ensure your content is accessible when you create it.
These are all online in Eduzone 2.0 – you may need to login to teams. All University of Dundee staff should have access to that team.
Video Accessibility
Tuesday 10-11am Online
This session is aimed primarily at academics, however as increasingly professional service staff are making and/or administering video content, they will also find it useful. The session will focus ensuring your teaching materials lend themselves to being captured for video, and the key processes during capture to ensure accessibility. We will also address closed captions and auto transcription in recordings – how improve their accuracy initially, and how to edit if required.
Accessibility: Getting the Basics Right
Wednesday 10-11am Online
This session is aimed at academic and professional services staff and is designed to raise awareness on accessibility issues. Find out how easy it is to use built-in accessibility checkers when authoring documents and use the tools to produce more readable, usable content for all students in My Dundee.
Creating Accessible Content
Wednesday 1-2 online
This session is aimed at any staff member who creates digital content, whether that's for a document, presentation, email, or web page. Learn more about the different types of disabilities and impairments your audience may have and what adaptations they might make to better access and understand your content. You will come away with an understanding of how to create accessible content thanks to practical tips on effective use of headings, text formatting, links, tables, and descriptive alt text for images, graphs, charts and diagrams. We will also spend some time looking at PDF accessibility.