What is it?
The gradebook is a feature in Blackboard that allows you to access all the data related to any coursework and assessments in your module.
---
What does it do?
The gradebook is populated with students when they're enrolled in your course. You can grade coursework, manage items, and post grades.
Grade coursework
Manage items
Post grades
Check the status of submissions
---
What should I know?
Step 1: To access the gradebook, go into your module and select the Gradebook tab from the top right-hand corner (fourth tab along).

Step 2: The gradebook will open in list view first (you can change this to grid view, which is discussed in section 3 of this guide). You can download the gradebook by clicking the download csv file (highlighted).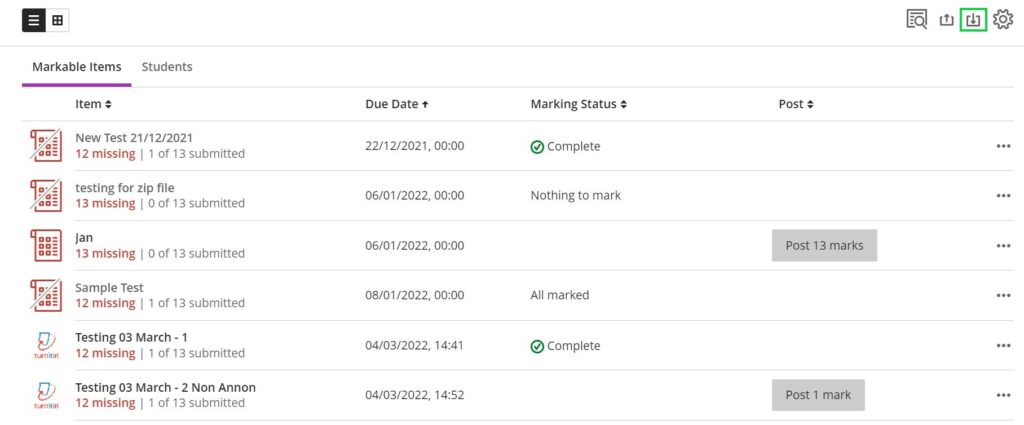 You can select a few options here including downloading the full gradebook or specific columns, the file type you wish to download, and the location you will download your gradebook to.
Step 3: Select Download. A spreadsheet will download that looks identical to Original.
The icon next to download csv is where you can upload a csv file. You can use the downloaded one to use the formatting and can enter marks in that spreadsheet to upload grades.
The last icon (cog wheel) is the settings. From here you change your marking diagram, add mark categories (groups of similar work), create a new rubric, add overall mark notations (override a student's overall mark with notations that fall outside the course mark diagram) and, most notably, assign automatic zeros.
Automatic zeros enter zeros for overdue work. You can overwrite an item that has been marked automatically with a zero (this is covered in section 2 and 3 of this guide).
You can also setup a overall mark for your module please have a look at Blackboard Overall grade and also see our 101 on the Overall Mark.
List View
List view is the first view you will see when you click into the gradebook and is a good place for an overview of your assignments. You can see if you have something to mark, if you have marks entered but not posted, or if everything is in and complete. All the assignments listed are linked and will take you to the assignment page when you click into it.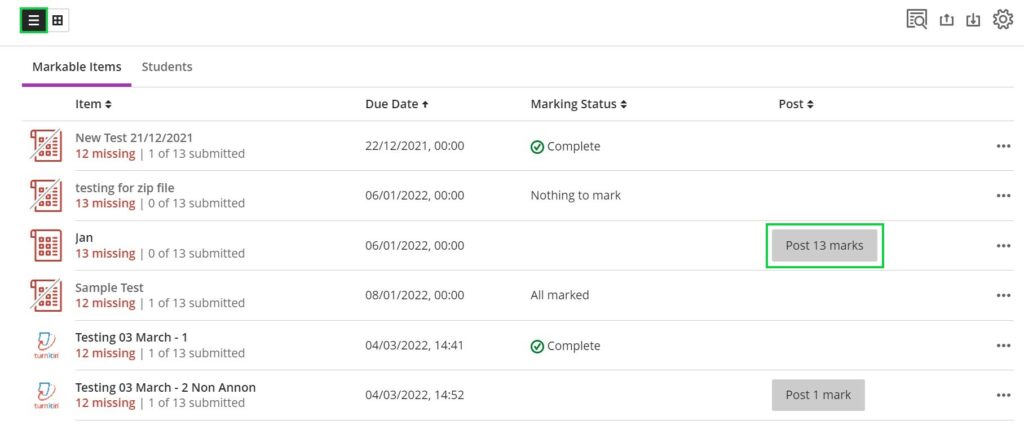 Step 1: Once you enter grades in, you can either post them individually by student (shown in Section 3 of this guide), or you can post them all at once. If you have entered all your grades and you're ready to release them to your students all at once, click on Post marks from this list view.
Grid View
Step 1: Grid view gives you a more detailed view of the students' submissions across all assignments. To enter grid view, click the grid view icon at the top left-hand side of the screen.
Step 2: To enter or over-write marks here, find the student and click on the Mark Now or number to add in a grade manually. For an item that hasn't been posted, you'll have an option to 'post mark' once you enter a grade. That is how you post marks individually instead of in bulk.
The purple New Submission notification allows you to see clearly what has a submission and still needs to be marked.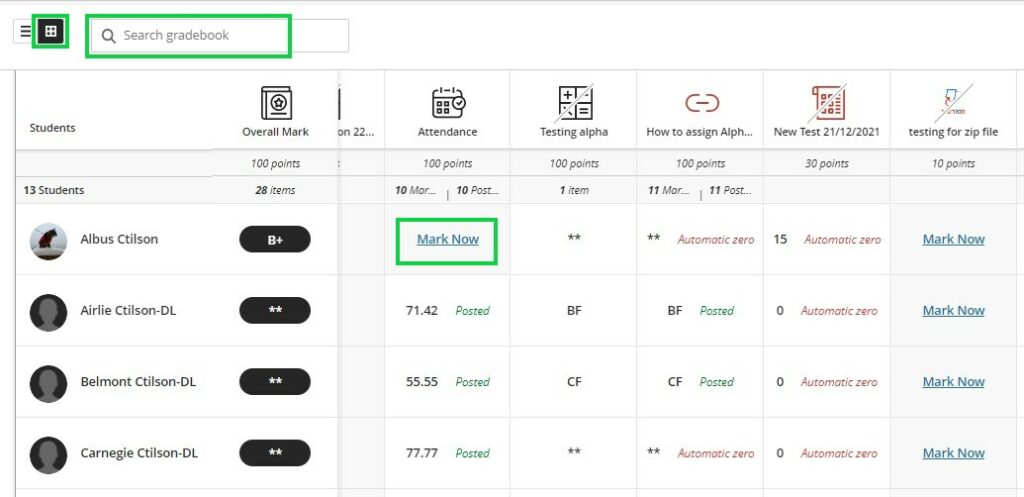 In the grid view there is a search function in the top left-hand menu, so you can easily and quickly search for a single student.
Marking Submissions
Step 1: Click on the link to the assignment you want to mark. Then in the list view of the students, you can see that the student who submitted the assignment has a link on their name and a submission time. Click on their name link, and that brings you to the submission itself.
Step 2: You can enter marks at the top. Next to that area to enter mark, there is a little square speech box, that is how to provide overall feedback for the assignment.
Step 3: You can also enter marks from within the submissions page by clicking into the mark for each student and typing in the grade directly. You can post grades individually when they have been entered by clicking Post.