What is it?
After you have submitted your assessment to Turnitin, you can open your document in the Feedback Studio in Turnitin to review it.
What does it do?
You can review your submission to make sure it has uploaded correctly with no formatting issues, make sure you have uploaded the correct file, and check your similarity report.
What should I know?
Step 1: Go into your module and click on the link where you submitted your assignment.
Step 2: Click Launch from the side panel.
Step 3: You will now see the Assignment Dashboard. In this window you can:
Click on the link of your paper title to review your submission (in the screenshot, this is PDF file example.pdf)
See the date and time your submission was uploaded
See your marks (if they have been released)
Review your similarity score (if this has been enabled by your instructor)
Download the file of your submission
Upload a replacement document (if this has been enabled by your instructor)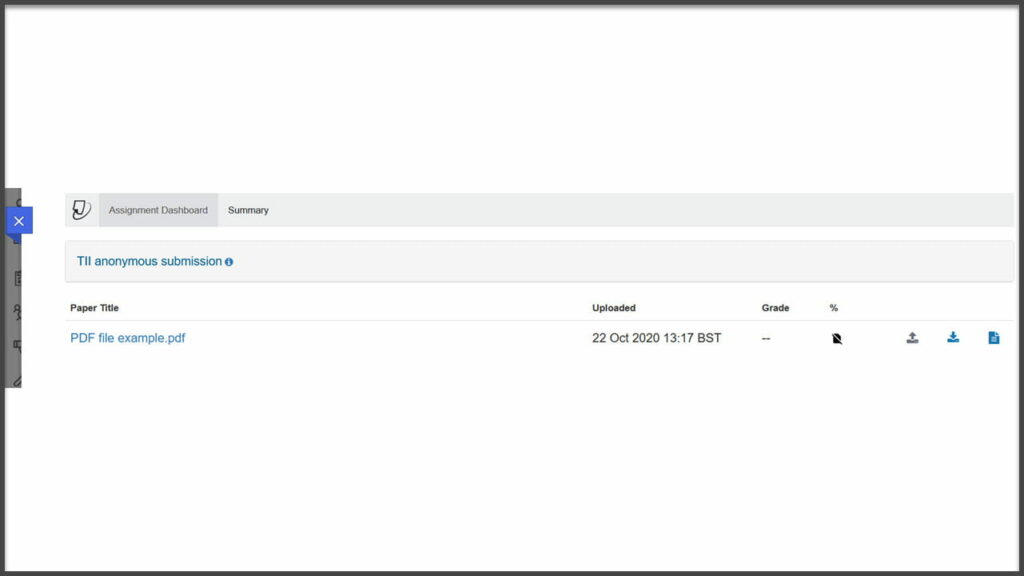 Where to go for help:
When you review your submission, you may discover that you need to make some changes and need help to do so. Some questions may need to go to your module lead, some may need to go to Help4U for technical support, and some may be answered with our guides.
Before the due date:
If you have uploaded the wrong file: If the assignment accepts resubmissions, you can resubmit your file! Our guide can walk you through how to do this, including how to check if resubmissions are allowed.

If resubmissions are not allowed, you will need to contact your module lead.
If you have a problem with the file upload: First, check out our guide on tips and troubleshooting for Turnitin. This will cover what to do for the most common errors when you try to upload a file.

If that doesn't resolve your question, submit a ticket to Help4U and include your module ID code, the name of the submission point, and any details about the issue including any screenshots. Also be sure to contact your module lead to let them know about your issues and that you have contacted Help4U.
After the due date:
Contact your module lead, even if you discover technical issues. They may need to contact Help4U on your behalf, but this should come from an instructor on your module.