What is it?
This guide covers troubleshooting tips for common Turnitin errors
What does it do?
There are a few common issues that you may experience when you submit your assessment to a Turnitin submission point. This guide will help you resolve the issues, or direct you to the best place to go for help.
What should I know?
What to do if you can't submit
First, read the error message carefully, these will usually tell you what the issue is so you can resolve it.
Word count error
If you see the following error message that says that your submission needs at least 20 words, you'll need to edit your submission to meet this word count. This message often appears when you are submitting a file that has scanned pages. Even if these appear to have text on them, scans are read by Turnitin as images, and therefore they are considered to have no text. You can create a coversheet in Word that meets the word count and attach it to your file to be able to upload your file.
If you're still having issues, contact Help4U.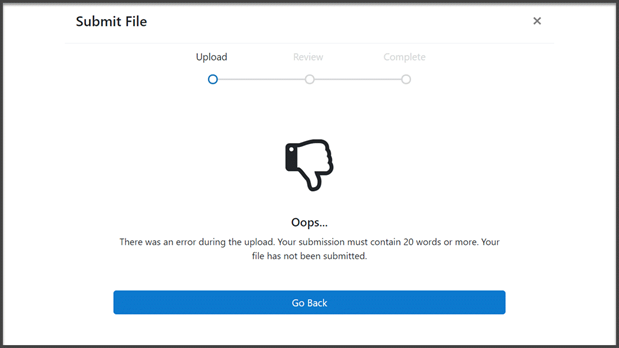 Cannot upload submission
If you are unable to upload a submission and see the message Cannot upload submission. There is something in the settings that is barring your from submitting – most likely, the due date has passed, and the assignment has been set up to not allow late submissions. If you see this message, you will need to contact your instructor for any further help.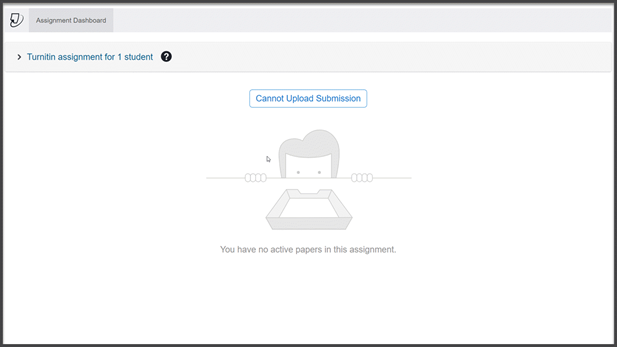 File size error
If you see the following error about your file being too large, you will need to compress your file.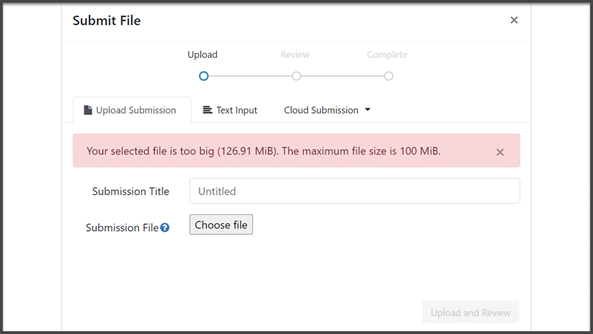 What to do if you have submitted the wrong file
First, see if your assignment allows resubmissions – you don't need to delete anything, the new submission will automatically replace the earlier submission. If the assignment doesn't allow resubmissions, you'll need to contact your instructor for any further help.
You cannot delete submissions, so if you have uploaded a file to the wrong submission point and need help removing it you will need to contact your instructor for further help.
What to do if something else has gone wrong
If anything else has gone wrong with your submission, please contact Help4U. We also strongly recommend that you also contact your instructor so they are aware of any issues you may be having.