What is it?
The best way to view the module from a student point of view is to enter the Student Preview feature which creates a student account for you.
---
What does it do?
Student preview is incredibly important when designing your module to be able to see what your students are seeing. Make sure you assign your student preview account to a group, and then you can see exactly what your students will see in groups.
See what information and assignments students assigned to groups have access to
---
What should I know?
You'll need to have a Student Preview account attached to your module first, as you will have to attach this account to a group. Your Student Preview account will be automatically generated and attached to your module after you have gone into Student Preview Mode at least once. You will need to repeat this in any additional modules you are in.
To enter Student Preview
Step 1: Click on the Student Preview link at the top right.
Note: When you click on this, you will see a warning to say you are switching over to student preview mode. Once you are in student preview mode, you will also see a banner across the top of the module.
Once in this mode you can take part in discussion boards, take quizzes, and interact with any Blackboard content as a student would. Note that you cannot access Turnitin while in student preview mode, this is because Turnitin is a different company and does not integrate with this mode. You may also see a similar error for any items you add through the content and tools option.
Step 2: To exit student preview mode, click on Exit at the top right in the banner and select either Discard or Save. Save keeps all the things you did in the student preview mode (e.g. test submissions, discussion posts, etc), Exit removes the data of what you did in student preview mode.
Step 3: Back in instructor mode (not student preview mode), follow the instructions from our guide on creating groups to add your Student Preview account to a group.
Step 4: Go back into Student Preview Mode to access the group link and any content associated with the group you have added this account to.
What a Student will be able to see
Step 1: On the Details and Actions menu on the left-hand module page, the student will be able to select Groups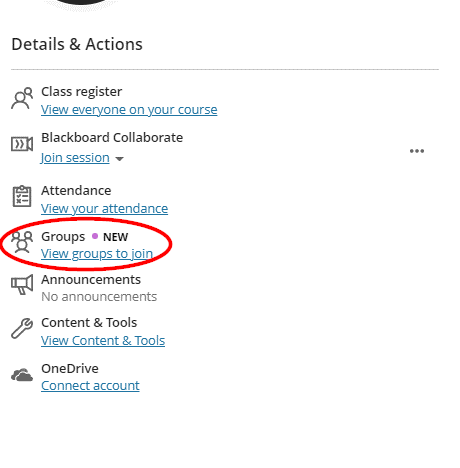 Step 2: The dropdown list expands any groups sets to reveals the groups that the student is part of. By default, this will only show the number of participants for custom or randomly created groups. It will not show the other student names.

Note: Students will be able to see the names of the students in their groups when content has been assigned to the group. You can also create a discussion board and assign it to groups so students have a space to discuss any group work they may have.