What is it?
You will notice a tool in My Dundee that aims to help students and staff receive important messages and seamlessly navigate Blackboard via pop-ups and a contextual knowledge base.
What does it do?
You may encounter pop-up messages in My Dundee on the right-hand corner of your screen or in the centre, or you may notice the question-mark icon in the bottom right-hand corner of the screen. These are tools to update you on important news and service issues, as well as provide you with a knowledge base to find answers to questions you may have about My Dundee or our other learning tools.
What should I know?
Read any pop-ups that appear in My Dundee, as these will contain important information.
Pop-ups can be dismissed permanently by clicking 'Do not show again' and closing the window with the 'X' or the 'Close' button.
At the right-hand side of the screen, you will notice a question mark icon. Click this to access either Blackboard Support or My Dundee Help (Blackboard is the vendor for My Dundee).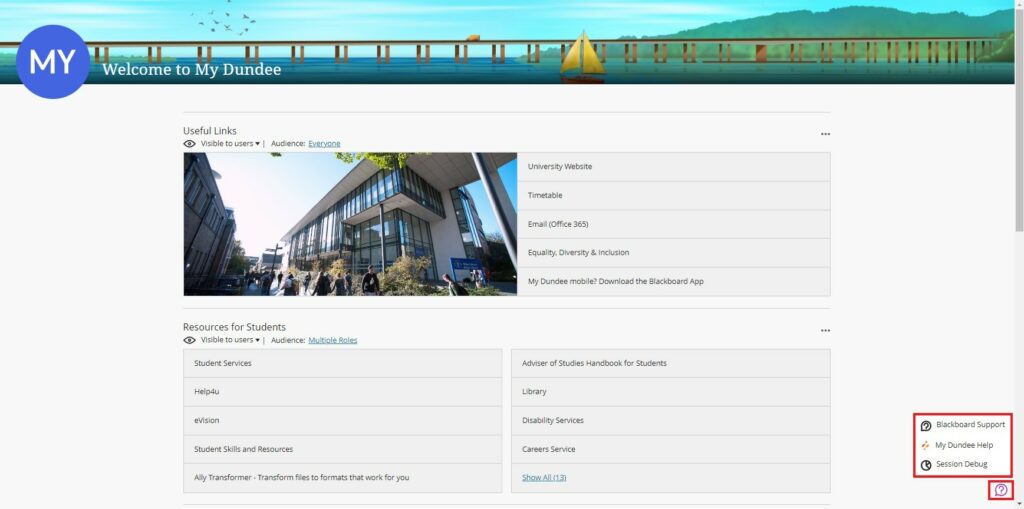 For quick help, select My Dundee Help and use the filter options below to narrow your search. Use the email or Help4u self service options if you cannot find what you are looking for.