What is it?
In Collaborate, you can be assigned several permission levels of through different roles. This guide will explain the purpose of each role and what permissions they have.
What does it do?
By default, Collaborate invitees will be assigned the role of participator. Your module leader can change this either during the creation of the session or during the session itself to allow certain permissions.
What should I know?
There are three roles:
Participant – allows you to view the session but not to share content or change settings. Depending on the other session settings you have enabled, participants may or may not be able to share their microphones or video. They will always be able to raise their hands.
Presenter – this has a higher level of permissions than a participant, but some features are not accessible, and they cannot remove users from a session.
Moderator – has the highest level of permissions – they have full control in the session.
Roles can be changed back to participant when permissions are no longer required.
Presenters:
This is the best role for the following situations:
Presenters who are not leading the session (e.g. guest lecturers, student presentations, etc.)
Your module leader may have restricted video/audio during the creation of the session, but they can allow you to use the audio by changing your role mid-session to that of a presenter, then change you back to a participant once you have finished.
Presenters will always have access to turn on their audio and video. In addition to this, they can share some content. They can share a whiteboard, their screen, or an application, they can share a different camera, or share files (this is restricted to certain file types).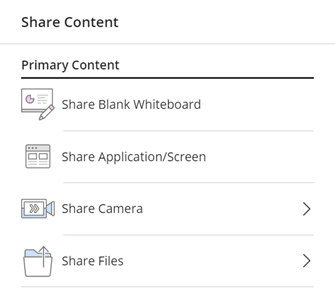 Moderators:
This is the best role for the member(s) of staff who will be formally running the session. They have all the permissions of the presenter, and a few more. It is unlikely you will have this role in your session.