What is it?
The way we access collaborate sessions depends on the kind of session created. This guide has been created through the point of view of the student.
What does it do?
All members of a module will be able to access the course room at any time (unless you disable the room). For an organised session, you will be able to access this in the same way, but the link will only be available for a specified time e.g., 15 minutes before the start of the session until the end of the session.
What should I know?
To join a specific session
Step 1: From the module page, in the Details & Actions menu find the area for Class Collaborate and select Join Session
Step 2: If an organised session is active, there will be a link in the options e.g., Test Session. Find your session and select this from the list.
Note: Depending on the session settings, the instructor can determine how long before the session the link will be active. By default, this is set to 15 minutes before the session begins. If the student tries to access the link before this time, and does not refresh their window within the 'active' time, they will not see the link to the session.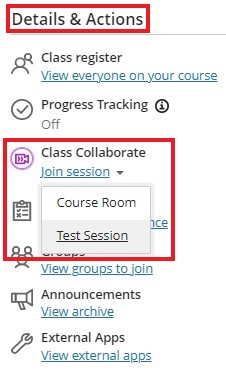 To join the Course room
Step 1: Navigate to your module page and under Details & Actions, select Join Session
Step 2: Select Course Room
Note: This link will be available by default unless you disable the course room.
Join an organised session via the guest link
Students will be able to join a session via the guest link. However, this should only be used when the student is having issues accessing the session from within the module. Users who enter the session with the guest link are not logged with their UoD accounts and therefore will not show as 'present' in any attendance reporting or room reports.