What is it?
PowerPoints are the go-to for most presentations. You will be able to access PowerPoint as part of the university's Microsoft 365 subscription.
What does it do?
In addition to creating a static PowerPoint that is the background of a live presentation, you can also record audio and/or video into your PowerPoint.
Once you've done this, you can save the recording as a video file, and upload it to YuJa using our guide.
What should I know?
Step 1: From within your pre-created PowerPoint presentation, go to the Slide Show tab and select Record Slide Show.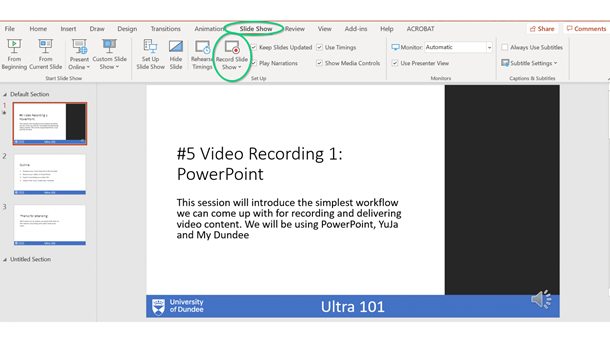 Step 2: In the top centre, there is a big record button, and settings for the microphone in the top right. You can use these settings to choose your microphone and camera inputs. Generally, we do not recommend using the laptop's microphone, but rather that you use a headset.
Step 3: In top-right, there is an option for 'turn camera on' – this would put up a video of you in the bottom right-hand corner so students can see you as you walk through the presentation (this is important for lip reading).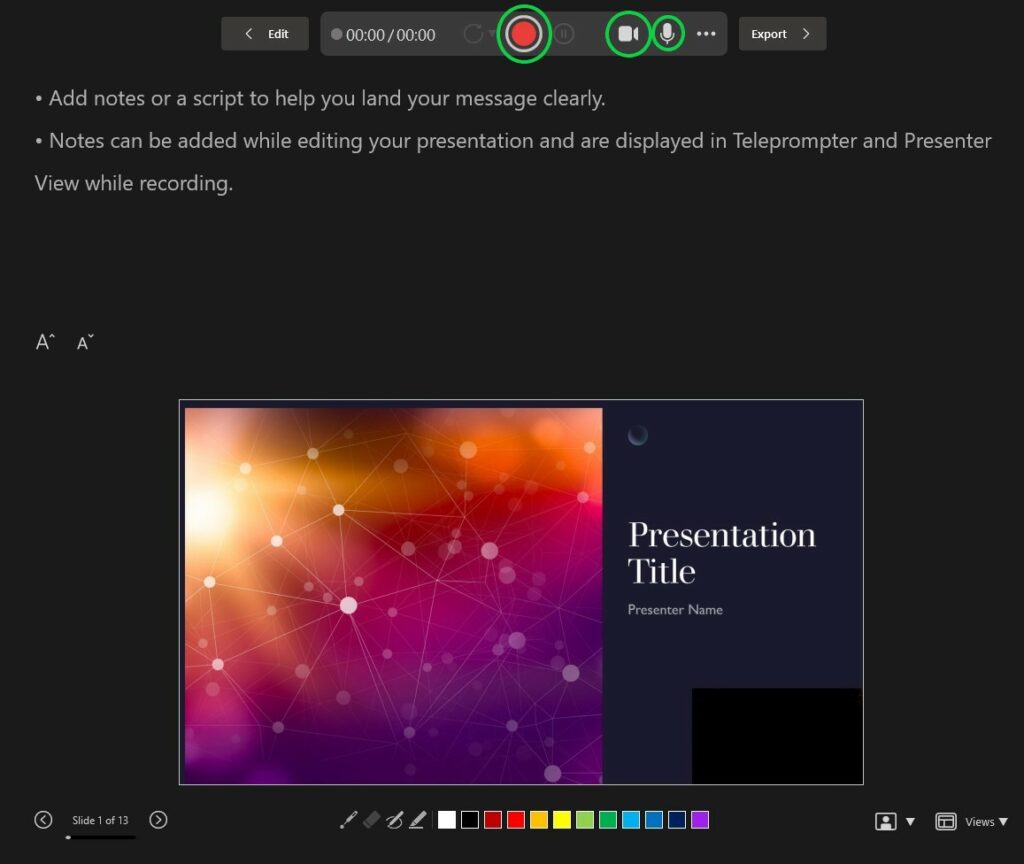 Step 4: When you are ready to start recording, click the Record button. You will get a 3…2…1 warning, and then it starts recording. 
Step 5: You can then click through your slides as usual using the arrows on each side. There is a pause button which you can use to pause recording when needed. You can use the pencil, highlighter, and eraser icon to mark on the PowerPoint as you record it. To restart your recording at any point by clicking on the large X in the top menu.
Step 6: Once you are happy with your recording, click the small x to go back to the normal editing view.
You can see that there is a recording attached to your slide if there is a speaker icon in the bottom right-hand corner.
Step 7: To export your video, go into File, then go into Export and choose Create a Video.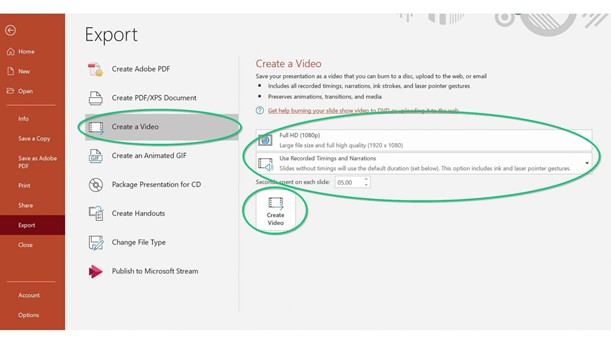 You have drop-down boxes to determine the quality of the video (we recommend you leave this as the FullHD setting). You can also configure the number of seconds spent on each slide (note: if you have recorded narration over your video, the recording will not move on until all speaking for this slide has completed, regardless of the timings set for each video). 
Step 8: Select Create Video and save your video to your desired location. 
Once you've got this, you can upload the video to YuJa!