What is it?
Once you are comfortable creating tests in Blackboard, you may want to adjust the settings to customise timings, delivery, and feedback.
What does it do?
Learn about the options you must deploy the test and release feedback
Add time limits for tests
Adjust question and score feedback
Learn how to randomise questions and answers
What should I know?
There are several sections in settings, you can find details about each of these below:
Details and Information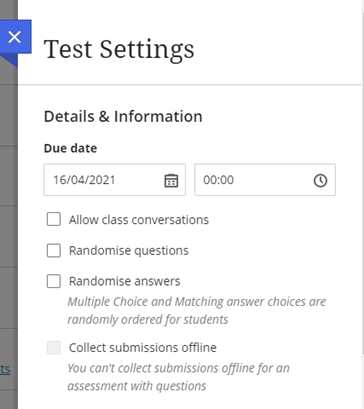 Due Date – This is the date and time the item will be due. Please note that there is currently no option to force a submission based on the due date/time.
Allow class conversations – This will enable a discussion board feature on this item
Randomise questions – This will allow questions to be asked in no order
Randomise answers – This will allow answers to multiple choice questions to be shown in no order
Collect submissions offline – When students open this type of assessment, they're informed they can't submit work online. If you create groups to collect submissions offline, students can view their group members.
Note: You cannot randomise questions if there is a 'text box' in the question area
Marking and Submissions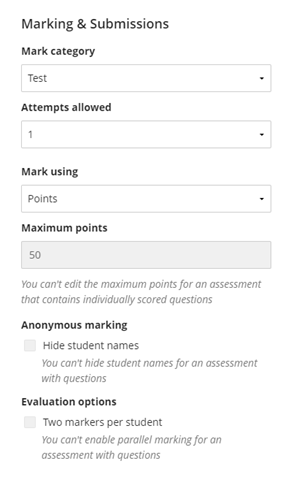 Mark category – Choose your category including presentation, exam, test or homework etc.
Attempts allowed – Set the number of times a student can submit to this assignment
Mark using – you can choose to mark by 23 to alphanumeric, percentage or using points
Maximum points – Choose the maximum points awarded for this assignment
Anonymous marking – Choose to hide students' names when marking work. The names will be automatically released once the grades have been posted. There is not a way to see an individual student's name without posting all of the marks.
Evaluation options – You can use this setting to allocate two markers per student, if required.
Assessment Results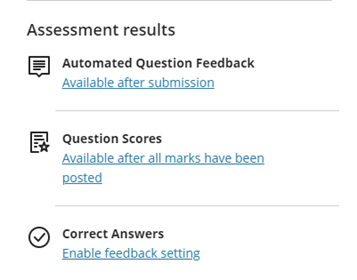 As you select assessment settings, you can allow students to see the correct answers to automatically scored questions after they submit. For example, you want students to see which questions they missed on a multiple attempt assessment, but not see the correct answers. You can also hide answers until all students complete their submissions.
In the assessment settings panel, the Show correct answers and Show question scores aren't selected by default, so correct answers and scores per question are hidden from students.
When you want students to review the answers with the assessment content, return to the settings panel and select Show correct answers. Show question scores will be selected automatically. When you show correct answers, you need to also show the question scores. To show only the score per question but not the correct score, clear the check box for Show correct answers.
Automated Question feedback – Enable a comment/feedback to be given after a question is answered correctly and/or incorrectly once the whole test has been submitted. You can toggle this on and off in each individual question and enter the response you'd like to give.
Assessment security and Additional Tools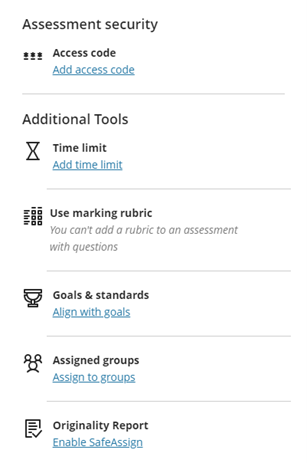 Access code:
If you turn on the option for the access code, only students who have the access code will be able to enter the test and submit an attempt. This can be useful to use if you want to keep the test visible so students can view their scores and review the questions but want to restrict student access to submit a new attempt.
Time Limit:
You can use the Time Limit feature to restrict the amount of time that a student can have the test open. When you use this option, you can add (in minutes) the time limit and decide if the student's work with automatically be saved and submitted when the time expires, or if the students are allowed extra time.
One important thing to keep in mind is the difference between Time Limits and Due Dates. The time limit starts once the student accesses the test. This is entirely independent from the due date and time, so it is possible for a student to submit a test within the time limit that is still marked as late. For example, if a test is made available from 10:00 to 11:00 with a due date of 11:00 and a time limit of 60 minutes, it is possible that the student would access the test at 10:55, submit it at 11:45 (well within the 60-minute limit) and be marked late.
Note: If a student needs to have additional time, you will need to set up an Accommodation – you can see instructions on how to do this in [link/this guide].
Goals and standards:
The University of Dundee does not have any Goals or standards set up with the Blackboard tool, so you can ignore this section.
Assigned to groups:
You can assign tests to groups if you would like. If you would like to create a test for a group, use the instructions provided in the Create an assignment for a group [link] to set this up.
Originality report:
Although the settings allow you to enable originality reports, these do not work with automatically marked tests, even for essay-style questions. You can ignore this section.